Carnival Sunrise Arrives in Fort Lauderdale for Winter Season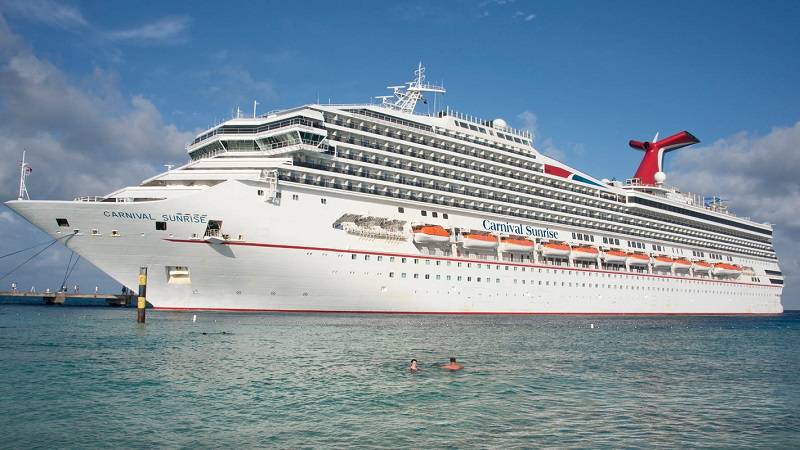 The Carnival Sunrise, the former Carnival Triumph, has arrived in Florida for a winter season of Caribbean cruising. The ship was transformed in a $200 million makeover earlier this year.
A sold-out five-day cruise to Ocho Rios and Grand Cayman marks the first of nearly 40 departures from Fort Lauderdale through May 2, 2020.
The Sunrise is the second Carnival ship to be renamed, following the 2013 conversion of the Carnival Destiny into the Carnival Sunshine. Like that ship, the Sunrise had 115 cabins added, giving it a revised capacity of 2,984 passengers.
Carnival is introducing a new Asian concept on Carnival Sunrise called Lucky Bowl. It features a daily rotating menu of three bowl options with noodles (rice, cellophane, angel hair, chow mein, mung bean, lo mein) or rice, protein (chicken, beef, pork, seafood, egg) and/or vegetables, as well as other unique ingredients.
Guests order at a window outlet located in the mid-ship Lido Marketplace that features a display with the three menu options for the day. Lucky Bowl is complimentary and replaces Mongolian Wok.
From Fort Lauderdale, Carnival Sunrise four-day "long weekend" cruises will call at ports like Half Moon Cay, Princess Cays, Grand Turk and Nassau, while five-day cruises will visit seaside destinations in The Bahamas, Jamaica, Grand Cayman and Grand Turk.
Carnival Sunrise will reposition to New York for four-day cruises to Bermuda and eight-day Caribbean departures beginning May 3, 2021.
Source: Travel Weekly