Port St. Maarten to Embark on Enhancing Investments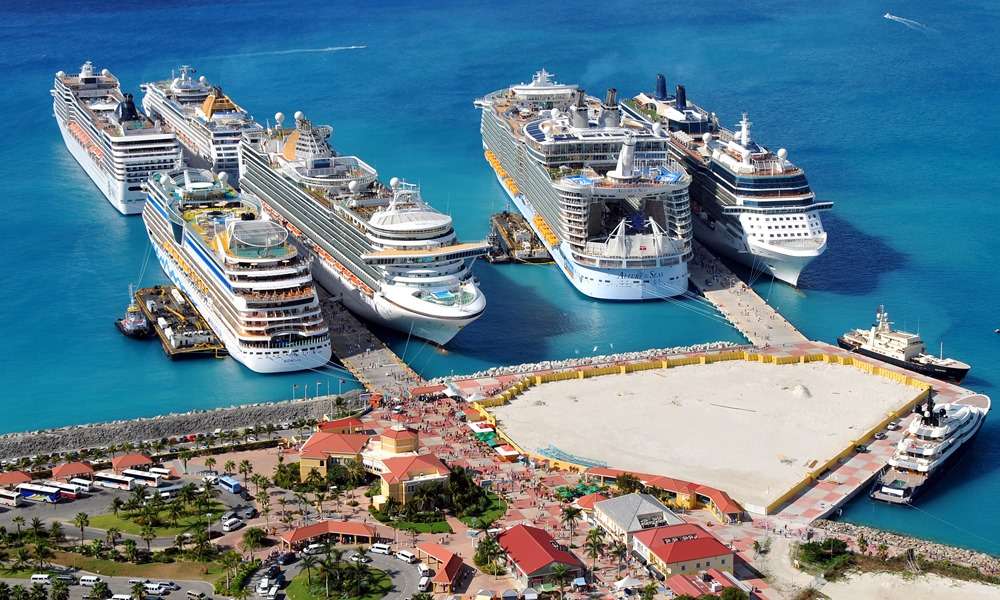 Port St. Maarten says it is expecting to see 10.6 percent fewer cruise-ship calls for the period November 1, 2019, to April 30, 2020, compared to figures for the same period in 2018-2019.
However, this almost-11-per-cent decrease in cruise ship arrivals reflects only the traditional "high-season." The number of cruise ships calling at St. Maarten is forecast to drop between 25 and 30 per cent in 2020, said Florida-Caribbean Cruise Association (FCCA) President Michele Paige in an interview with The Daily Herald on Thursday, September 19. This means that cruise ship arrivals are expected to continue to decrease towards the end of 2020.
Port St. Maarten said it anticipates 416 cruise calls between November 1, 2019, and April 30, 2020, with approximately 1,049,419 cruise passengers. This compares to 466 cruise calls between November 1, 2018, and April 30, 2019, and 1,239,707 cruise passengers. The total loss of cruise passengers stands at 15.4 per cent, based on these figures.
Between these same periods, 22 Norwegian Cruise Line (NCL) ships docked at St. Maarten during the 2018-2019 high season. Only five NCL vessels are scheduled to make calls between November 2019 and April 2020, according to information on cruise-ship arrivals from Port St. Maarten's official website.
NCL is not the only cruise line shying away from St. Maarten. Both Royal Caribbean and Carnival Cruise Lines have reduced their service by an average of 15 ships during the same period. Additionally, TUI Cruises has cancelled all its three cruise calls to St. Maarten in the 2019-2020 high season.
NCL, Royal Caribbean and Carnival are the three dominant players in the global cruise industry, accounting for more than 70 per cent of the cruise market in 2018, according to website Business Insider.
Port St. Maarten said it would be embarking on new short- and long-term investment plans, and these will be presented at the upcoming FCCA Conference and Exhibition in Puerto Rico in October, with the primary focus of getting additional business in 2020 and beyond.
Within the next two years, Port St. Maarten said it will finance, out of its own pockets, the construction of a replica historical ship in the main cruise area, a small replica of the salt pond, a heritage wall, and the introduction of more green spaces. This is to further enhance the passenger experience at the port, as the cruise terminal is the last place passengers encounter before boarding their vessels, said Port St. Maarten on Monday.
Plans are being prepared to construct a permanent homeporting terminal to cater to fly-cruise passengers, which will enhance the experience of guests who arrive in St. Maarten to board a vessel for a one-week cruise. Homeporting is very important for the local economy, as it generates more airlift in and out of the destination, brings additional business for local service providers, and creates the potential for pre- and post-cruise extension visits, said the port.
Cruise Pier South will be further strengthened to handle an increase in storm activity and intensity, according to Port St. Maarten.
The port will also fund repairs to the inter-island berth, the roll-on/roll-off (RoRo) pier, and the construction of an additional reefer plug-in point, which will further stimulate trans-shipment cargo to the Northeastern Caribbean.
For the long term, a 20- to 25-year period, the port said it will issue a request for proposals to realize its long-term strategic goals of attracting a partner(s) which could comprise private port operators or cruise line(s). Such a partnership would bring additional strategic expertise and capital, leading to mutual benefits for the port and the country overall, said the port. 
It was rumored in June that marine cargo handling company Global Port Holdings had made a presentation to the Council of Ministers regarding its interest in the port, which government has not confirmed or denied.
Global Ports Holding is the world's largest private operator of cruise ports and has been expanding in the Caribbean recently. In 2018, the company signed a 15-year concession to operate the cruise port in Havana, Cuba. This year the company signed a 30-year agreement to operate the cruise port in Antigua and Barbuda, and, with a consortium of other partners, signed a 25-year agreement to operate Prince George Wharf and related areas at Nassau cruise port in the Bahamas.
Source: The Daily Herald (St. Maarten)