Minister Manuel Marrero at WTM London: "See You Soon on Our Beautiful Island"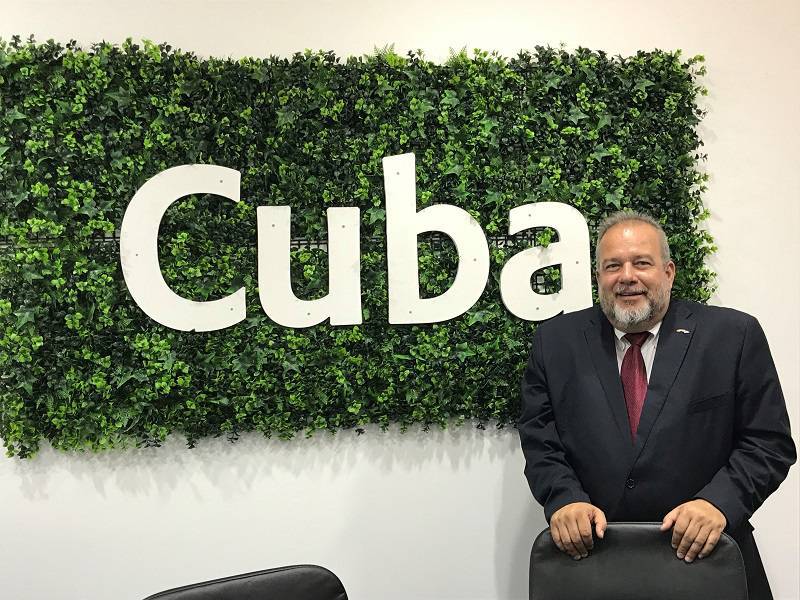 By Verónica de Santiago
A new edition of WTM London is underway and Cuba is attending with the intention to strengthen the UK as one of its main outbound markets.
As it has traditionally happened in recent fairs, Cuban Tourism Minister Manuel Marrero Cruz is in attendance and was the host of the Cuban Night, where he delivered a speech to his guests.
"I'm very pleased to give you the best welcome to the Cuban Night that we have specially prepared for you. This visit happens within the calamities triggered by the economic, commercial and financial blockade of the United States against our country. The tightening of this blockade has caused the stop of cruise lines coming from the United States and a decline in the number of visitors from that country," Mr. Marrero Cruz told the audience.
"This is a good moment to remember that Cuba continues to be the only country in the world in U.S. citizens cannot visit as tourists. We have taken the necessary measures to guarantee the economy vitality of the country, particularly of tourism.
"I can guarantee you that Cuban tourism is in good health and with great vitality. This is owed in part to the great investments we have made this year in the tourism area, which includes the modernization of several hotels and the opening of 4,000 new rooms," he went on to say.
Minister Marrero gave attendees a full-length rundown of the newbuilds and refurbished hotels Cuba will be opening in the course of this year and in 2020, explaining that the entire room stock of the country will grow considerably by the year 2030.
"We are ushering in the winter high-peak season with all the necessary supplies the hotels need in order to provide excellent quality service. This year, Varadero was voted the world's second-best beach.
"Another example of the vitality of Cuban tourism is what has been done in Havana to commemorate the 500th anniversary of its foundation, which will come to pass on the next 16th of November. So, we invite of all the United Kingdom to join us in this celebration that many national and international guests will be attending.
"We are happy with the way the UK outbound market to Cuba has been faring, with figures that make it the top fourth European market for our country and one of the main markets overall.
"I can assure you that the best way to break the U.S. blockade and help the Cuban people is by visiting us. We'll be waiting for you in Cuba, so we hope to see you soon on our beautiful island," the Cuban Tourism Minister concluded.