Russia Flexes its Muscles as an Outbound Travel Market
03 September 2019 10:34am
Russia, together with China, had long been the sleeping giants as far as outbound travel markets are concerned. Experts knew all along that the two nations would rapidly become a couple of major forces in terms of travel and tourism. It was just a matter of time.
The Russian market has particularly made tremendous strides in this sense and it now positions itself as one of the top-10 outbound markets around the globe.
According to a recent study released by MITT -Russia's number one travel and tourism fair- entitled The Russian Outbound Tourism Market in 2019: An Overview, the Russian travel industry has seen dramatic changes in recent years, with charter flights temporarily banned to such popular destinations as Egypt, Turkey, and most recently to Georgia. However, following Turkey's return to the market in July 2016, it has since risen to become the no.1 destination for Russian tourists in both 2017 and 2018.
The study goes on to explain that back in 2012, Russia was one of the top five countries with the highest spending by their citizens abroad. Whilst this has fallen slightly in recent years, the country climbed from 11th to 7th place from 2016-2018, remaining one of the highest spending groups in the world.
Russia's recent economic turbulence has had a significant effect on its travel industry. The market has seen a number of tour operators close their doors, which has unsettled the market and made tourists think harder about how often they travel abroad. It's also increased the number of independent travelers who research and book their trips themselves. With the economy stabilizing, however, and with a consistently high volume of outbound travelers, optimism is high for further success on the horizon.
In fact, some are expecting the outbound industry to return to the 2014 pre-crisis levels or even exceed them in 2019.
"For the second quarter in 2014 we reached 12.2 million trips abroad, by the second quarter of 2018 we recovered to 11.8 million trips. This year, there's every chance of reaching the pre-crisis level and even exceeding it," says Sergey Shpilko, President of the Russian Union of the Tourism Industry. "Certain types of tourism are growing at an accelerated pace, for example cruises, rafting, trekking, nature-oriented tourism."
Following a hugely successful year in 2017 when outbound trips from Russia rose 25%, growth of another 5.8% was seen in 2018, bringing the total up to 42 million trips.
Where Do Russian Tourists Travel to?
In addition to Turkey, by far the top outbound market for Russian tourists over the past couple of years, other nations like Finland, (4.5 million trips), Kazakhstan (2.9 million trips), Ukraine (2.3 million trips), China (2 million trips) and Estonia (1.8 million trips) come next on the list, the report indicates.
An equally significant number of Russian vacationers have also traveled to Germany (1.3 million trips), Georgia (1.2 million trips), Thailand (1.1 million trips), Poland (1.1 million trips), Italy (1 million trips), Spain (961,000 trips), UAE (941,000 trips), Cyprus (826,000 trips), Greece (808,000 trips), Azerbaijan (748,000 trips), Lithuania (635,000 trips), Tunisia (611,000 trips), Vietnam (531,000 trips) and Bulgaria (437,000 trips).
The Language Barrier
Unlike tourists from many European countries, a sizeable percentage of Russian tourists don't speak fluent English. This means they require Russian-speaking services such as audio guides, signs, menus, restaurant staff, instructors, guides, etc. to make them feel at ease when they're abroad.
Those extra language services will go a long way in ensuring Russian tourists have the most comfortable stay and will increase the likelihood of them returning, according to the study issued by MITT.
Russian tourists have high expectations when it comes to service. They expect punctuality and extensive knowledge from instructors and tour guides.
Of course, every tourist is different and what they want from a holiday can vary massively, but there are a few overarching points that are worth bearing in mind for attracting more Russian tourists.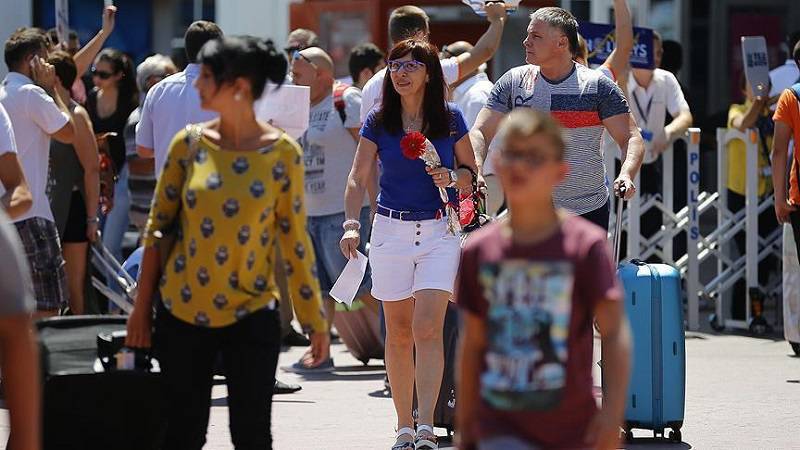 Russian Travelers Stay Longer
Russian tourists are in it for the long-haul. Their average length of stay for a foreign holiday is 10 nights – 2 nights longer than the global average, according to the Visa Global Travel Intentions Study 2018.
Despite spending more than their European counterparts, Russian tourists are affected by currency fluctuations and do like a good deal. The mid-lower section of the market is highly price-sensitive and this reflects in their choice of destination, hotels, and excursions.
Russians are travelling more with their children, with 2018 seeing a 17% increase in family holiday bookings. That means they're looking for child-friendly resorts and accommodation, and entertainment for all the family while on holiday.
Russian tourists stay for a longer period than our customers from the Balkan countries. They don't just come for a few days, they stay for a period of around 10 days."
In general, Russian tourists are a high-spending group. They spend on average $1,676 per person per foreign holiday, more than their European counterparts who spend $1,174, according to the Visa Global Travel Intentions Study 2018. This is expected to rise by a further 5% over the next two years.
This is reflected in their climbing to 7th place worldwide in terms of tourism expenditure (+11%) in 2018. However, currency fluctuations have affected the mid-lower section of the market.
Travel analyst service OneTwoTrip reported a 9% growth in accommodation spend abroad by users from January-August 2018. The average cost of one night's stay across all types of accommodation increased from 7,270 roubles to 7,920 roubles. The strongest rises were recorded in 2 and 3-star hotels – a 12% increase, and hostels – 11%.
The rise in accommodation expenditure is primarily dictated by the currency markets," said Maxim Karaush, Director of Hotels at OneTwoTrip. "We're also seeing an increase in bookings paid in one instalment, so travelers are insured against possible currency changes. Russian tourists are mainly reacting to increasing costs by booking more affordable accommodation options. This in part explains the growth in prices for budget hotels and hostels."