Brazilian, Cuban Presidents Inaugurate Phase One of the Mariel Port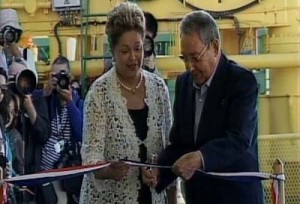 Brazilian President Dilma Rousseff and Cuba's Raul Castro inaugurated Monday phase one of the containers terminal at the Mariel Special Development Zone, just a few miles west of Havana.

Heads of State already in Cuba to attend the 2nd Summit of the Community of Latin American and Caribbean States (CELAC) were also present at the ribbon-cutting ceremony.

The Mariel port is by far Cuba's biggest allure to foreign investment and the latest chance to drive the island nation's economy in an effort to replace imports, ratchet up exports, create jobs and have access to cutting-edge technology.

The state-of-the-art facility is penciled in as the most advanced containers terminal of the Caribbean Basin and one of the finest in Latin America. The terminal will be able to accommodate 824,000 containers every year.

The infrastructure works are estimated in some $900 million, with the lion's share of that amount ($640 million) chipped in by Brazil and the rest of the funds earmarked by Cuba.