Puerto Rico Faces Staggering Number of Covid Cases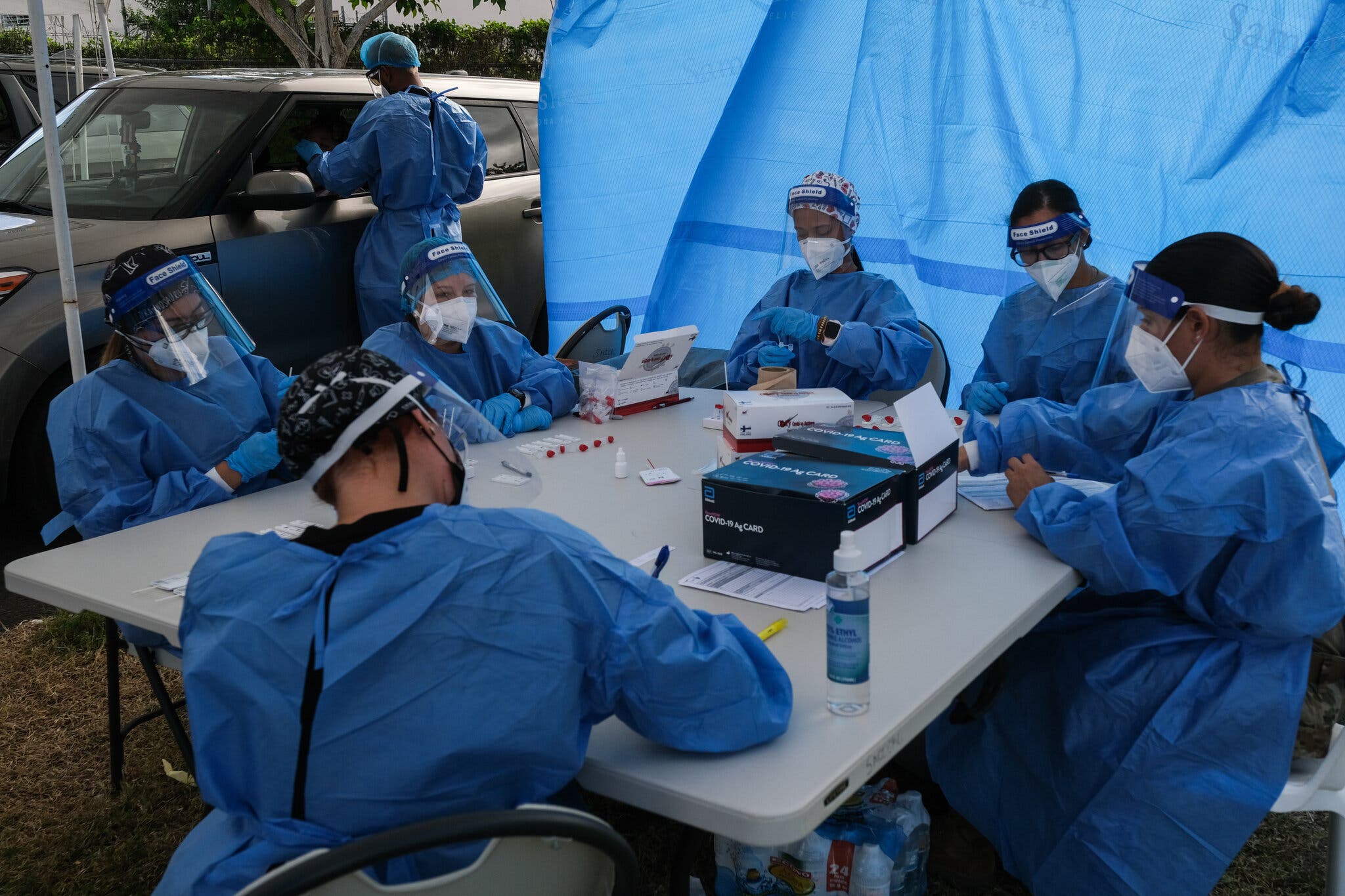 Armed with her vaccine passport and a giddy urge to celebrate the holiday season, Laura Delgado — and 60,000 other people in Puerto Rico — attended a Bad Bunny concert three weeks ago.
Three days later, she was sick with Covid-19, one of about 2,000 people who fell ill as a result of the two-day event.
"We did so well; we followed the rules," said Ms. Delgado, a 53-year-old interior designer. "We followed the mask mandate. Our vaccination rate was so high that we let our guard down. The second Christmas came, we were like, 'We're going to party!'"
The superspreader concert helped usher in an explosion of Covid-19 cases in Puerto Rico, which until then had been celebrating one of the most successful vaccination campaigns in the United States. The concert was one of a series of business events, company holiday parties and family gatherings that fueled a 4,600 percent increase in cases on the island, a surge that public health officials worry could linger into the New Year; the Puerto Rican holiday season stretches to Three Kings Day on Jan. 6.
While the Omicron variant has besieged the entire country, it is especially worrisome in Puerto Rico, a U.S. territory already overwhelmed by government bankruptcy, an exodus of health professionals and a fragile health care system. Officials imposed a new wave of tough restrictions on travelers and diners in hopes of staving off the new wave of cases.
Rafael Irizarry, a Harvard University statistician who keeps a dashboard of Puerto Rico Covid-19 data, tweeted the daunting facts: A third of all coronavirus cases the island has recorded since the start of the pandemic occurred in the past month. 
The number of cases per 100,000 residents jumped to 225, from three, in three weeks. In December, the number of hospitalizations doubled — twice.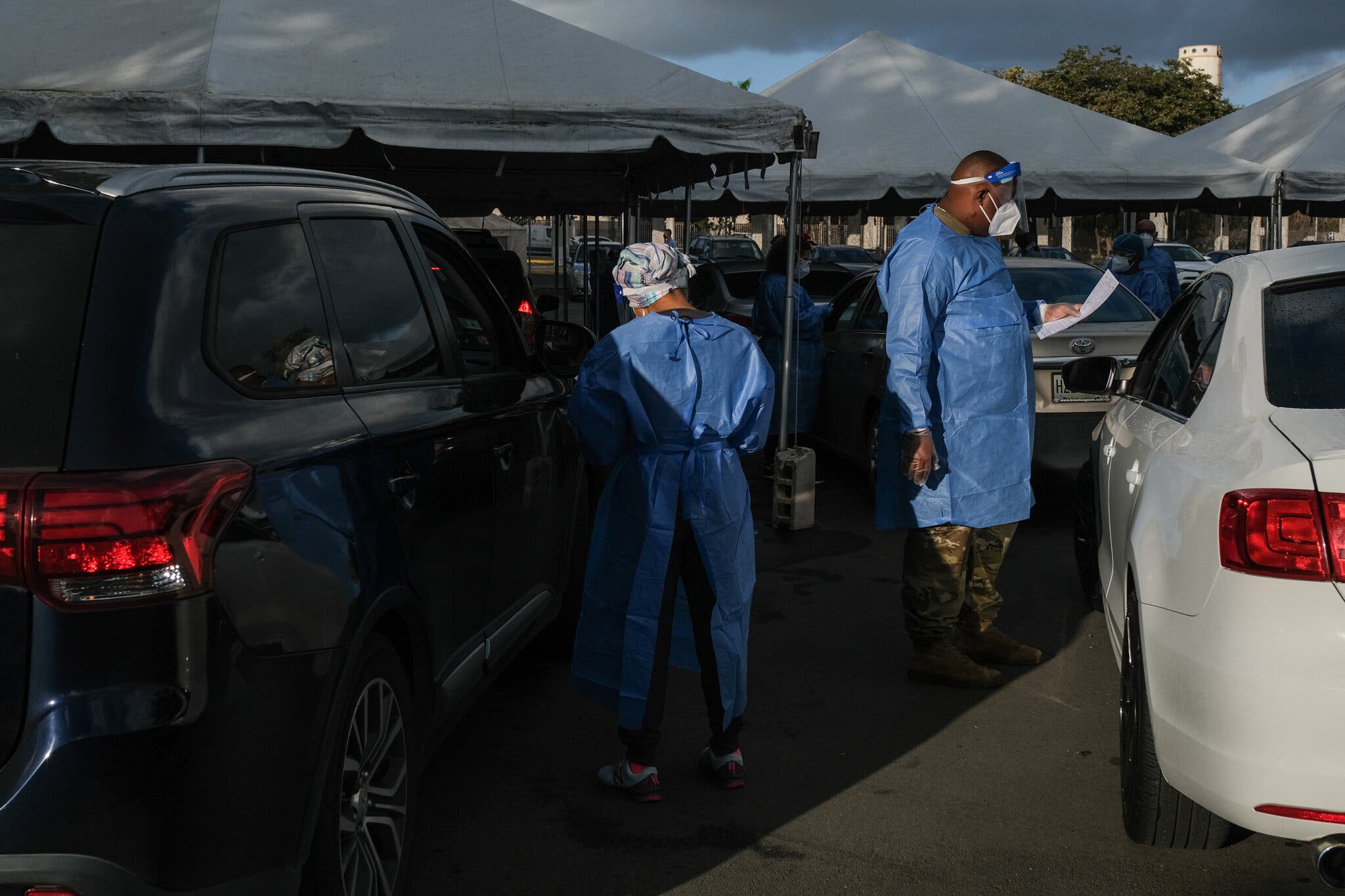 Without the polarizing politics that have plagued the debate over vaccines in other parts of the country, nearly 85 percent of those in Puerto Rico have received at least one vaccine dose, and about 75 percent have gotten both shots.
But in the face of a highly contagious new variant, a high vaccination rate is not that meaningful anymore, Mr. Irizarry said. Most in Puerto Rico have passed the six-month limit beyond which the vaccine's effectiveness begins to wane, yet at least 40 percent have yet to receive their booster shots, health officials said.
At one point this week, the daily case count had surpassed 11,000, a very high figure for an island with just 3.2 million inhabitants. The exponential increases have begun to taper off, but case numbers are still climbing, Mr. Irizarry said.
Gov. Pedro R. Pierluisi has ordered lower capacity limits in restaurants. To attend large public events, people now have to be vaccinated and present a negative Covid-19 test. Passengers arriving on domestic flights must show a negative test taken within 48 hours before arrival, regardless of their vaccination status. Similar rules were already in place for international flights.
Mass public events, including an important celebration to commemorate the 500th anniversary of the island's capital, San Juan, have been canceled. "Dick Clark's New Year's Rockin' Eve," which ABC had planned to broadcast live from Puerto Rico in front of big crowds, was downgraded to a virtual event.
Source: The New York Times