Cuba's Tourism Minister Accepts Excelencias Award Granted to Havana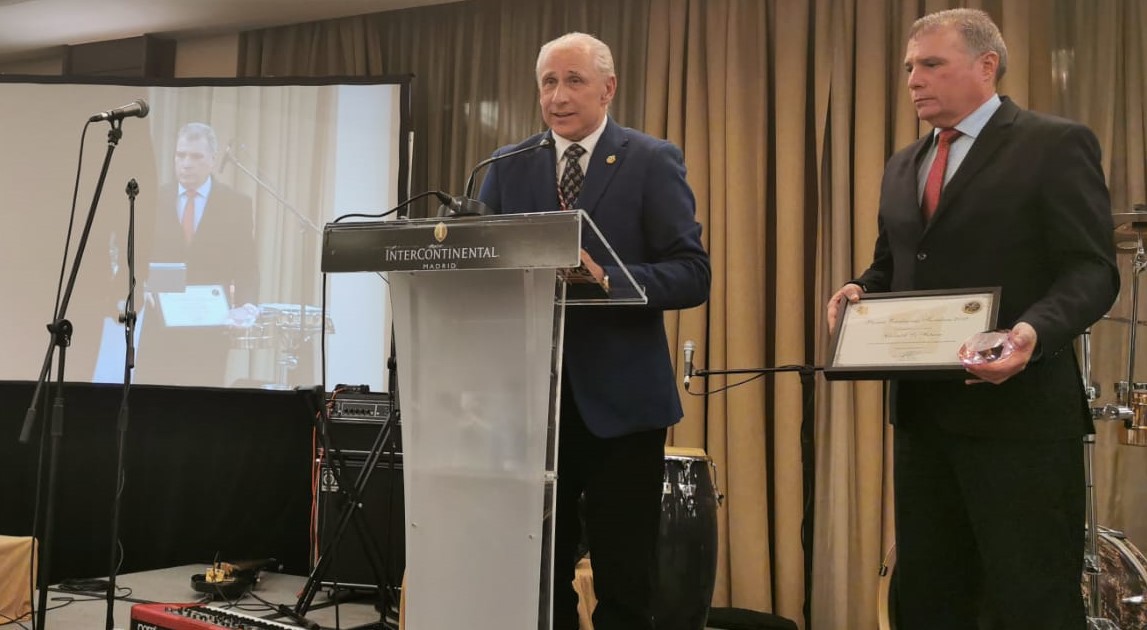 This Thursday, at the end of FITUR 2020, the tradition Cuban Gala Night unfolded, presided over by the new Cuban Minister of Tourism, Juan Carlos García Granda, who after receiving from the president of the Excelencias Group, José Carlos de Santiago, the Excelencias Tourism Award granted to Havana for the development work and improvements made in the face of its 500th anniversary of its foundation, gave a welcome speech to those present.
Regarding the award to Havana, Mr. de Santiago said "The award we are giving to the Minister today is a unique prize and it is an award that refers to the city of Havana, not only because it has turned 500 years old, but because it has really deserved it."
And he continued: "Because they have made the works that no other country in the surrounding area, in the Caribbean, has created in these days, neither Puerto Rico nor Panama, which have turned 500 years old this year, have been able to make works at the level that Havana did".
After receiving the award, the Minister gave a welcoming speech to those present, where he communicated to hotel chain presidents, tour operators, airline representatives, travel agents and specialized press, a small summary of the sector's experience in 2019 and the challenges of this year.
"We have just concluded 2019, the year in which we were shot to kill and we remained alive, said the President of the Republic of Cuba, Miguel Díaz-Canel Bermúdez. Being alive means having had the opportunity to receive 4 million 275 thousand foreign visitors in our country by the end of 2019, a result achieved in a period of intensification of the financial blockade against our country, where 82 cruel measures have been applied with the aim of affecting economic results and very particularly those associated with the sector in which we work," said the Tourism Minister.
Garcia Granda said that "More than one weekly measure was adopted among which we can mention the suspension of cruise ships, regular and charter flights to various destinations with the aim of reducing the number of U.S. visitors.
"We regret that the United States government strips its citizens of enjoying our natural beauties, our culture, our heritage and the exchange with our people. Let us remember that Cuba remains the only country in the world where U.S. citizens cannot travel freely as tourists," he added.
"We are alive because in 2019 we concluded our plans with the opening and operation of 3,400 new rooms with standards that correspond to the most demanding products of today, built with the latest technologies, ensuring high international competitiveness, some of them with a high acceptance in the market as the Hotel Internacional Varadero, I spoke with Escarrer (He refers to Gabriel Escarrer, CEO of Meliá), which has had a very high occupation since its opening, a success".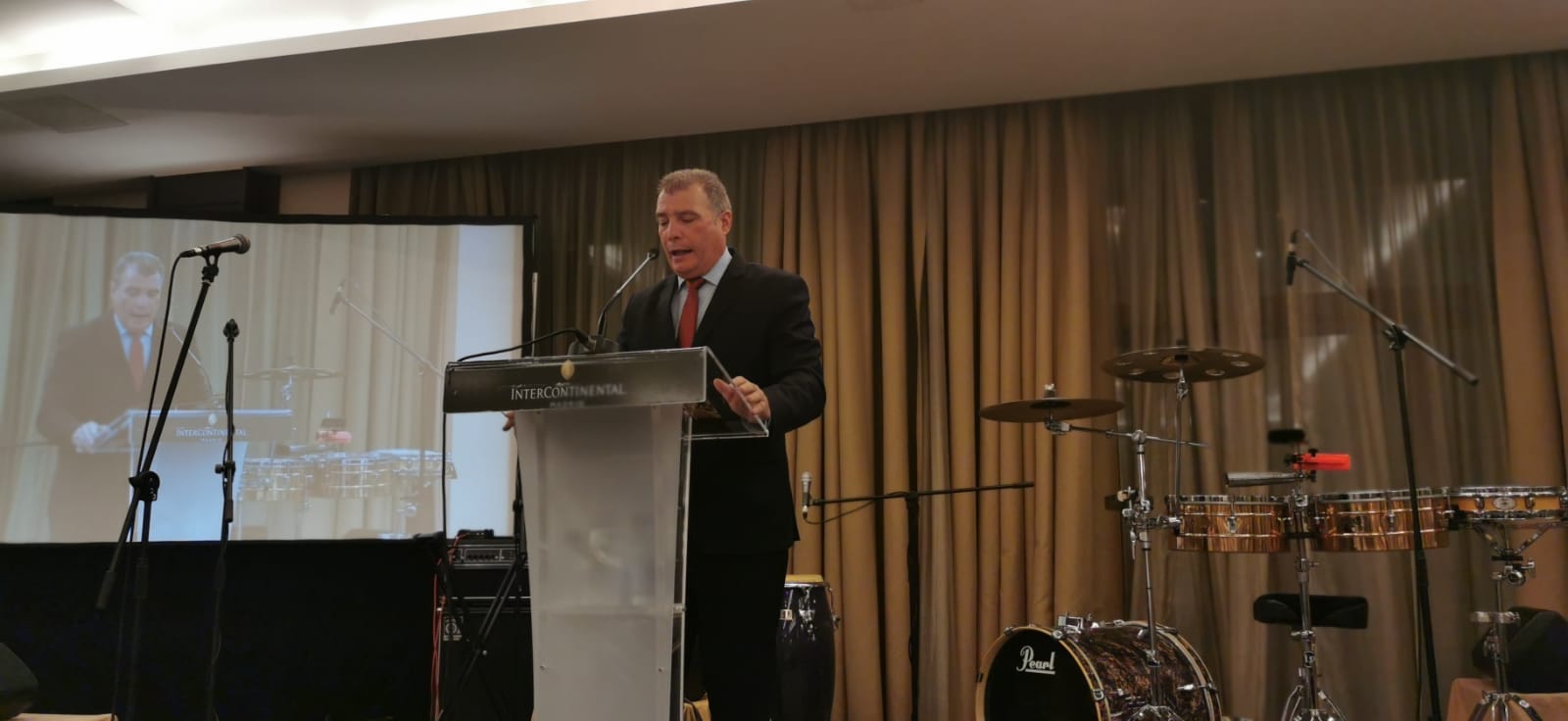 The Minister announced "Before February 15th we will inaugurate 2 new 5 star hotels, the Gran Hotel in Havana, with 152 rooms and in Cayo Guillermo, the Kempiski Hotel, a wonderful property that has been built on Pilar beach, with 248 rooms to which we will add 7 new facilities in 2020, totaling 4,670 rooms in the destinations of Havana, Trinidad, Holguin and the first hotel in the new destination Ramon de Antillas with 860 rooms north of Holguin".
"We are continuing the construction of hotels in the Ciudad Maravilla, Havana, which will give continuity to the fruitful and recognized process of rejuvenation that this city had in its 500th anniversary".
"In the second best beach in the world, Varadero, we are also working on an ambitious plan to strengthen the extra hotel infrastructure. We intend to have some of the works completed by the fair in May.
"We continue to develop the computerization of the country and by this winter we already have most of the tourist destinations with internet connection and in several hotels this service is already fully completed and reaches a wireless connection in the hotel rooms and public areas of the hotels".
"We have renewed our rental car fleet with more than 5 thousand new cars, we continue working on the recovery of the segment dedicated to events and incentives and we will be celebrating the first International Tourism and Health Fair in October, from 28th to 30th".
The official stressed that "Among the main characteristics that distinguish Cuba, the hospitality of its people, the security, being these neural qualities for the Spanish tourists to continue choosing Cuba as one of the preferential destinations for their vacations".
"Today and yesterday we have insisted that we want more Spanish tourists in Cuba, they have all our illusion put in that objective. I take this opportunity to announce that Cubana de Aviación will resume the route between Madrid and Santiago, incorporating to its fleet a type A 340 aircraft leased to the company Plus Ultra with 2 weekly frequencies. This responds to demands made during these days by some tour operators and we have foreseen that Cubana will manage to hire these places with enough time so that we can really contribute to more Spaniards going to Havana, to all of Cuba.
"If this is to be alive, at least it is to continue betting on tourism, at least it is the confidence we have in you, our partners and collaborators. Thank you for supporting us, thank you for helping us find solutions to the difficulties we face every day, thank you for trusting us".
"On behalf of the Prime Minister of the Republic of Cuba, Manuel Marrero Cruz, Minister of Tourism for 16 years, I invite you to join us at FITCUBA 2020, in its 40th edition to be held in Varadero from May 4-6. Coincidentally, this fair, FITUR, also celebrates its 40th anniversary".
"So all of you who are here, I imagine that we will continue there in Havana will be in Varadero, in the Varadero destination. We are grateful to FITUR for bringing us together over these 40 years and allowing us to work together.