Jamaica Remains Committed to Spain, FITUR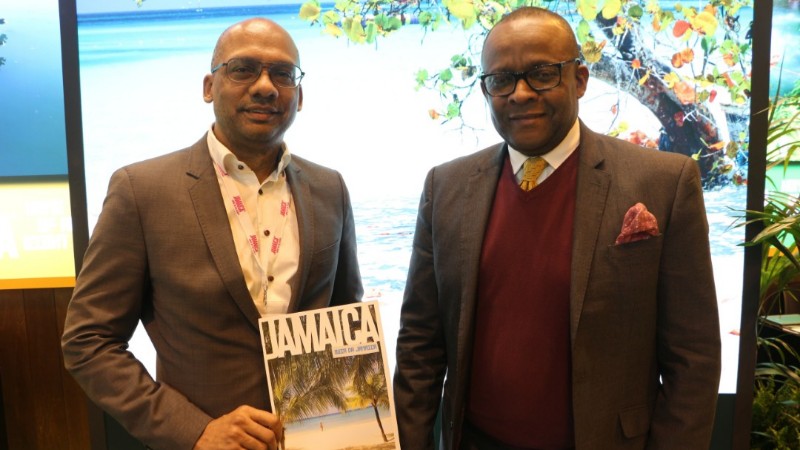 by Jorge Coromina
The Jamaica Tourist Board (JTB) has been for over a decade attending the International Tourism Fair of Madrid (FITUR), a trend that tells the island nation apart from the rest of the English-speaking Caribbean islands that traditionally focus their attention on fairs and events that take place in the United States and the United Kingdom, by far its two main outbound markets.
But Jamaica, on the other hand, that also depends heavily on these two markets for the development of its travel industry, is currently having significant investment coming from Europe, and more specifically from Spain.
"The Spanish market for Jamaica, both in terms of investment and travel has been huge. We can say right off the bat that the largest investment in hotels comes from Spanish investment. That's been the case over the past fifteen years of so," explains Donovan G. White, Tourism Director of the Jamaica Tourist Board.
Companies such as Iberostar and Meliá have made significant investments in Jamaica for several years. In addition, the historical relationship with Spain, which dates back to periods before the English colonization, is just another element that contributes to materialize and boost up the presence of Spanish investors and tourist arrivals on the Caribbean island.
"The Spanish market is at its very best. It was back in 2007 when we first got over 17,000 Spanish tourists, but then the world recession hit and we've been since then building on that. Spain is a special contributor in terms of the number of European travelers to Jamaica," added Mr. White in exclusive interview with Caribbean News Digital.
With the help of Edmund Bartlett, Minister of Tourism of Jamaica, the island has sought partnerships with its neighboring travel destinations, such as Cuba, Mexico and the Dominican Republic, to promote multi-destination as an feasible and viable choice.
"We certainly believe that the multi-destination opportunities present a good place for us to grow as travelers are increasingly looking to share their vacations in different places, especially across the region. What we believe is that if we can continue to build the air capacity for transport within the region, it would be easier for the traveler to stay within the region for 10 or 12 days, and spend half of those days in one place before moving to another," explains Mr. Gregory Shervington, regional director of the JTB for continental Europe.
The Caribbean nation received 4.3 million foreign visitors in 2018, with as much as 2.7 of them registered as stopovers and the rest logged in as cruise passengers. Out of that total, the number of American tourists reached 1.6 million last year.
For Jamaica, attending Fitur will continue to be an important option the JTB feels fully identified with and committed to in its bid to put much biggers numbers on the board in years to come.