Hilton Keeps Adding All-Inclusive Resorts in the Caribbean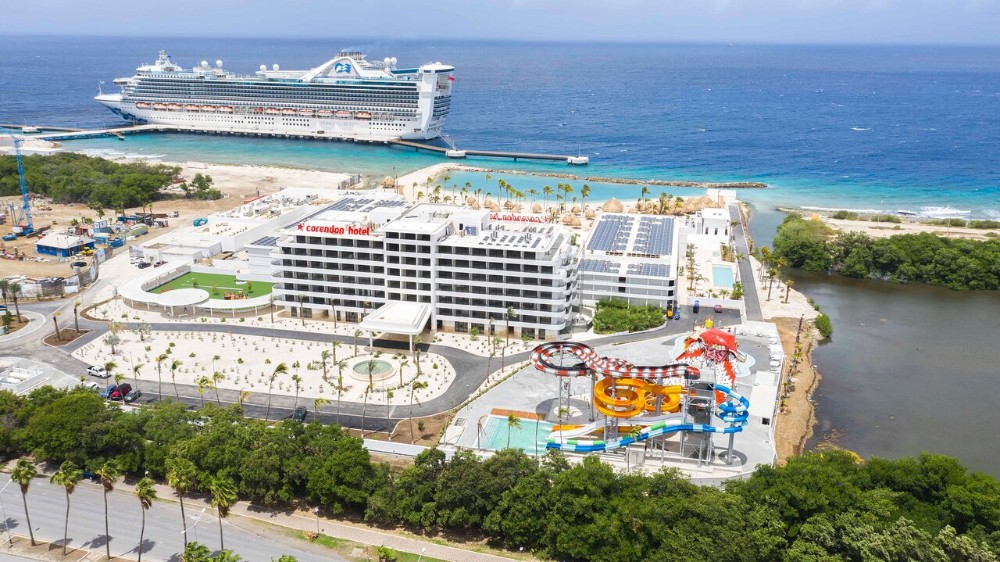 Hilton has announced the signing of an agreement to open Mangrove Beach Corendon Curaçao Resort, Curio Collection by Hilton, expanding the company's impressive all-inclusive expansion. The resort, owned by Corendon Group, is scheduled to open in September 2021, re-establishing Hilton's presence on the island of Curacao.
"As we continue to grow our all-inclusive hotel presence throughout the Caribbean and Mexico, we are thrilled to join forces with Corendon Hotels & Resorts to open Curaçao's largest all-inclusive resort," said Pablo Maturana, Hilton's executive director of development for South America and the Caribbean. "With more than 35 spectacular beaches, Curaçao is an ideal destination for tourists seeking pristine natural surroundings, and we couldn't be more excited to offer guests another option when booking their trip to the Caribbean."
In addition to 399 spacious guest rooms, Mangrove Beach Corendon Curaçao Resort will feature select experiences and offerings to accommodate both adventurous travelers and those seeking a quiet beach getaway. Guests will be able to recharge at the resort's idyllic private beach with tranquil turquoise waters, four pools and spa cabanas with breathtaking views of the Caribbean Sea. The resort will also offer a variety of activities to appeal to adventure seekers, including scuba diving, beach volleyball and shuffleboard.
"We are excited to partner with Hilton, a world-renowned leader in hospitality, and to benefit from the recognition of a global brand like Hilton and the award-winning guest loyalty program," said Atilay Uslu, founder of Corendon Group. "Starting September 2021, we look forward to welcoming Curio Collection by Hilton to the beautiful island of Curaçao. Our goal is to provide the best service to our guests and Hilton Honors members, and to demonstrate that Corendon hospitality is an added value to the Hilton brand."
Mangrove Beach Corendon Curaçao Resort, Curio Collection by Hilton will offer nine distinct restaurants, including pool and beach bars, specialty restaurants and a cigar and rum tasting room. Guests will be able to enjoy additional amenities at the hotel, including a fitness center and a world-class water park with six family-friendly water slides, including the famous King Cobra, the only slide of its kind in the Caribbean.
In addition to the island's world-renowned beaches, the resort is steps away from the famous stores of historic Willemstad and is conveniently located just five miles from Curaçao's international airport.
"The addition of Mangrove Beach Corendon Curaçao Resort marks an important milestone for the brand as the newest all-inclusive hotel in Curio Collection, a growing hotel group of more than 100 exclusive and hand-picked hotels and resorts around the world," said Jenna Hackett, global brand leader, Curio Collection by Hilton. "Nestled in a protected nature preserve with a beautiful private beach, this beautiful resort will feature thoughtfully designed accommodations, world-class dining experiences and the highest quality services and amenities, all combined to offer guests a truly unique travel experience."
Mangrove Beach Corendon Curacao Resort, Curio Collection is the latest addition to Hilton's rapidly growing portfolio of all-inclusive hotels in premier beachfront destinations around the world. Tapestry Collection marked the opening of its first all-inclusive resort last month with The Yucatan Resort, Playa del Carmen, and later this year, Hilton Cancun, an All-Inclusive Resort is also slated to join the all-inclusive portfolio.
Mangrove Beach Corendon Curacao Resort, Curio Collection by Hilton will participate in Hilton Honors, the award-winning guest loyalty program for Hilton's 18 exclusive hotel brands. Members who book directly will have access to instant benefits, including a flexible payment system that allows them to choose almost any combination of points and money to book a stay, exclusive member discounts, free standard Wi-Fi and access to the Hilton Honors mobile app.
Hilton currently has more than 170 hotels and resorts welcoming travelers throughout the Caribbean and Latin America, including more than 20 throughout the Caribbean alone. The company continues to pursue additional growth opportunities in the region and currently has a robust expansion plan of nearly 110 hotels throughout the Caribbean and Latin America, including approximately 25 projects in several of the Caribbean islands.