New York's PUBLIC: The Story of New Beginning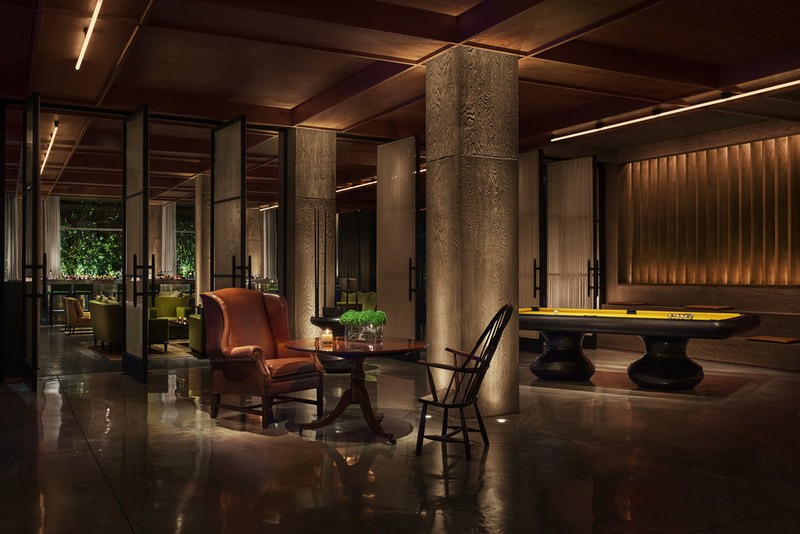 PUBLIC is a perpetual work in progress. It is in a constant state of improvement and will never be finished. The founding principle behind the brand and hotel is to offer the best, most original and exciting experience imaginable.
PUBLIC reopened in June having been closed for a year and a half during the pandemic. However, it was not just business as usual. PUBLIC went all out and debuted a reinvented and rethought hotel complete with various exciting offerings and amenities including a new restaurant, Popular, as well as a Cantina, Pisco Bar, Ceviche Bar and an improved LOUIS (the hotel's global, fast gourmet food bazaar)—all by award-winning Peruvian chef Diego Munoz who helmed The World's 50 Best Restaurant's #1 rated Latin American restaurant.
Now, in addition, to continuing pushing the envelope and raising the bar, PUBLIC introduces BAR CHRYSTIE, a new, sexy, moody, updated "Modern Classic Cocktail Bar"; HOUSE OF X, a progressive, avant-garde, multimedia, new experiential nightlife performance space like no other, by House of Yes creators; a WELLNESS PROGRAM focused not only on beauty, but on health, fitness, peak performance, diet, medical treatment and overall wellbeing; and new food and cocktail SEASONAL MENUS from Chef Diego, along with a newly conceived, special exclusive Chef's TASTING TABLE.
The five bars at PUBLIC are diverse in mood, vibe and spirit as well as offerings. Each with its own personality and DNA, you can experience any one or all of them in one night depending on what suits your mood. All together in one night, they are an all-encompassing and immersive holistic experience. BAR CHRYSTIE offers something completely different and complementary to the other bars at PUBLIC, which was not available before. 
A thoughtful, conversational refuge, it celebrates the Lower East Side's verve with state-of-the-art takes on classic drinks that are confident, elegant and fun, an extensive Champagne program, and cocktails made with rare and fine spirits. This is a bar for "adults in spirit", yet ironically situated in the Lower East Side—it's a dichotomy and contradiction in terms Schrager always seeks out with his projects. According to Schrager, when disparate elements come together in an unexpected way, that is when the sparks fly and magic happens.
BAR CHRYSTIE is elegant, refined and focused on intimacy, personal contact, human connection and conversation—a place to go for a tete a tete. It's a "piano bar without the piano" celebrating the famed NYC cocktail culture and that of Hollywood's glamourous Golden Age of the 1920s. It pays homage to classics such as The Bar Hemingway at The Ritz in Paris and Harry's Bar in Venice. BAR CHRYSTIE will offer theatrical, fun, inventive, bespoke cocktails from Chef John Fraser and Chef Diego Munoz in collaboration with visionary mixologist, Rob Krueger; delectable internationally inspired tapas and ambient snacks by Chef Diego; and sexy, soulful music inspired by Aaliyah, D'Angelo and Maxwell as well as live vinyl-spinning DJs. Expect the unexpected with do-it-yourself ice cream sodas and floats done in an edgy, modern way. The bar will also host a schedule of cultural events, including talks, art shows, comedy nights, and cocktail masterclasses.
HOUSE OF X by visionary House of Yes team Anya Sapozhnikova, Kae Burke, Ilan Telmont and Justin Ahiyon is the next generation nightlife venue and performance space by the next generation of nightlife empresarios. According to Schrager, this team is grabbing the mantle and bringing experiential nightlife to a whole new level and like nothing else before it.  In the same way that Cirque du Soleil reinvented the circus and Burning Man rethought outdoor gatherings, campfires and individual self-expression, HOUSE OF X and its creators will change everything and have the same profound impact on nightlife.
The new one-of-a-kind WELLNESS PROGRAM at PUBLIC was created to counter this new age of anxiety brought on by the pandemic. It gives both guests and locals a restorative sanctuary—a refuge— and holistic wellness experience right in the middle of New York City. The program includes fitness classes such as Pilates, Yoga, Boxing, HIIT, Sculpt, Stretch, Rehabilitation, Prenatal and Meditation from the world's best trainers; personal training options either on-site at PUBLIC's state-of-the-art gym, outside or off-site at the trainer's home gym; a Nike Run Club; priority access to the city's most sought after spa treatments including an extensive array of massages (Swedish, shiatsu, hot stone, Thai, acupressure, among others) movement therapy, floatation, acupuncture, IV vitamin infusions, cryotherapy and more, both in room and at the spas; on-call medical experts for tests and treatments, metabolic analysis, nutrition and holistic wellbeing; and healthy, delicious menus including vegetarian, vegan and gluten-free from both Chef Diego and Chef John Fraser—healthy food that actually tastes good.