Sandals to Open Three More Resorts in Jamaica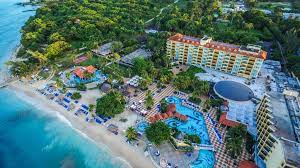 Sandals Resorts International will expand its Jamaican portfolio with the addition of three hotels, according to executive chairman Adam Stewart.
Sandals will transform the former Jewel Dunn's River Beach Resort & Spa and Jewel Runaway Bay Beach Resort & Waterpark, two all-inclusive resorts acquired in 2020, plus a prime parcel of beachfront land adjacent to the Dunn's River resort into three distinct properties under the Sandals and Beaches brands.
The expansion will mark the return of the Dunn's River property to the Sandals family as Sandal's Dunn's River, the same moniker used when the resort joined the brand in 1990.
The new Sandals Dunn's River will be renovated from top to bottom with the adjacent oceanfront land transformed into an additional new resort: the Sandals Royal Dunn's River offering 250 rooms and suites.
The sister hotels will operate in much the same manner as the concept that Sandals developed between Sandals Barbados and Sandals Royal Barbados, with exchange privileges between the two all-inclusive resorts.
The Runaway Bay Resort, located midway between Ocho Rios and Montego Bay, will be extensively redeveloped to become the Beaches Runaway Bay Resort, the third family-friendly Beaches In Jamaica, joining existing properties in Negril and Ocho Rios.
Source: Travel Weekly