Registration Opens for 8th Edition of WTM Latin America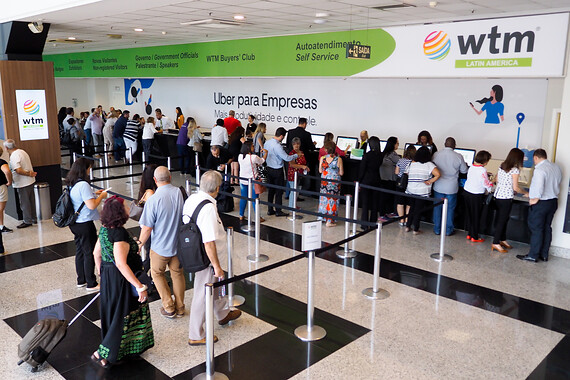 Registration for the 2020 edition of WTM Latin America, the main event in the tourism sector aimed at the B2B public in Latin America, is now open and can be done by clicking here. The event, which takes place from March 31st to April 2nd, at Expo Center Norte, in São Paulo, offers free registration until March 30th. The value of the registrations made at the fair site will be R$ 150.00.
For this edition, around 600 exhibiting companies of 50 nationalities and a great deal of content for visitors are expected. Among the novelties are the delivery of the 1st edition of the Responsible Tourism Award; the launch of the application Emperia, which was developed with the proposal of helping exhibitors to capture the data of visitors by scanning the QR code of the badge; as well as the Student Program in partnership with ITT - Institute of Travel & Tourism UK.
The successful initiatives of the last edition continue, such as the "Agent on the Road" program, carried out in partnership with Inter-American Network; the "Women in Travel", in partnership with Alessandra Alonso, founder of "Women in Travel CIC", a company dedicated to training women entrepreneurs in the travel and tourism sector, and Mariana Aldrigui, professor and researcher specialized in tourism with over 20 years of experience and member of the advisory board of WTM Latin America since 2016.
Read also:
WTM Latin America Unveils New Features for its 8th Edition
Hotel Sector to Attend WTM Latin America 2020
WTM Latin America Rolls Out App to Pump Up Exhibitors' ROI
WTM Latin America Spends on Customized Actions for Exhibitors
In this edition, the Travel Forward wins reinforcements. Held in pilot format in 2019, the space is consolidated as a novelty in the event and will have the participation of exhibitors from the tourism and technology segment, in addition to the qualified content.
Another novelty is a registration questionnaire dedicated to WTM Buyers' Club buyers, which will further qualify the level of buyers attending the event, by allowing for a clearer identification of the profile of these visitors.
Registration is open to travel and tourism professionals; the press (credentials exclusively for publishers, journalists, photographers, broadcasters and bloggers/influencers); government authorities and buyers (only buyers who meet the program's criteria will receive the WTM Buyers' Club credential).
More information: www.latinamerica.wtm.com
WTM Latin America
31 March, 1 and 2 April 2020
Expo Center Norte - Rua José Bernardo Pinto, 333 - Vila Guilherme, São Paulo
WTM Latin America attracts around 9 thousand senior executives and generates approximately US$ 374 million in new business. The show takes place in São Paulo, Brazil, and has a global audience that meets and defines the direction of the travel and tourism industry. http://latinamerica.wtm.com/. Next event: March 31st to April 2nd, 2020 - São Paulo.
About World Travel Market
The World Travel Market (WTM) portfolio consists of six leading B2B events on four continents. These events generate over US$ 7 billion in industry business. The events are as follows:
WTM London, the premier international event for the travel and tourism industry, is a must-see three-day exhibition dedicated to the industry worldwide. Nearly 50,000 senior industry professionals, government ministers and members of the international media visit the ExCeL London each November, and generate around £3.1 billion in travel and tourism industry contracts. http://london.wtm.com/ Next event: 4-6 November 2019 - London
T>F Travel Forward is a new travel technology event held in conjunction with WTM London and is part of the WTM portfolio of events. The next edition of the Travel Forward exhibition, conference and buyers' program will take place from 4-6 November 2019 at the ExCeL London and will showcase the latest travel and accommodation technology.
WTM Africa was launched in 2014 in Cape Town, South Africa. Around 5,000 industry professionals are participating in Africa's premier inbound and outbound travel and tourism show. WTM Africa offers a combination of proven success from hosted buyers, media, pre-arranged appointments, face-to-face networking, evening ceremonies and invited travel trade visitors. http://africa.wtm.com/. Next event: April 6-8, 2020 - Cape Town
Arabian Travel Market (ATM) is the premier international travel and tourism event in the Middle East for inbound and outbound tourism professionals. ATM 2018 attracted nearly 40,000 industry professionals representing 141 countries during its four days. The 25th ATM had more than 2,500 exhibiting companies in 12 halls of the Dubai World Trade Centre. Arabian Travel Market 2020 will take place in Dubai, from 19th to 22nd April 2020. To find out more, visit: www.arabiantravelmarket.wtm.com.
CONNECT Middle East, India & Africa is a new route development forum taking place in conjunction with Arabian Travel Market. The event will include unlimited pre-scheduled individual appointments, a conference programme, panel discussions and industry briefings, as well as a special exhibition area for airports and suppliers. 
About Reed Exhibitions
Reed Exhibitions is a world leader in events and reinforces the power of face-to-face meetings through information and digital tools at over 500 events per year, held in more than 43 countries and attracting more than 7 million participants. Reed events are held in the Americas, Europe, the Middle East, Asia-Pacific and Africa, and organised by 41 fully staffed offices. Reed Exhibitions serves 43 industry sectors with trade and consumer events. It is a member of RELX Group plc, a world leader in providing information solutions to professional customers across a range of industries.
About Reed Travel Exhibitions
Reed Travel Exhibitions, a world leader in the organisation of travel and tourism events, has a growing portfolio of over 22 international trade events in the Americas, Europe, Asia, the Middle East and Africa. Our events are market leaders in their sectors, whether they are global or regional leisure travel trade events, specializing in meetings, incentives, conferences and events (MICE), corporate travel, luxury travel, travel technology or golf, spa and ski trips. We have over 35 years of experience in organizing major travel and tourism exhibitions worldwide.