PinkCuracao Welcomes First Partners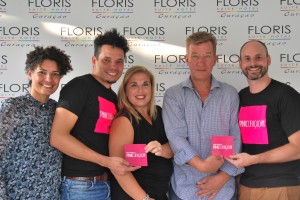 PinkCuracao has welcomed its first proud partners Floris Suite, Moomba Beach, Landhuis Bloemhof and Chata. PinkCuracao is Curacao's online travel guide specifically focused on the LGBT (lebian, gay, bi-sexual and transgender) traveler. The website promotes the diverse offering and LGBT friendliness of Curacao.
The website, www.pinkcuracao.com, is filled with information to explore: from how to get here, to what to bring and what to do. On the website travelers can book their hotel, get updates on events and read up on practical information about the island and the LGBT scene.
The LGBT traveler is an interesting niche market and Curacao is a unique travel destination for LGBT travelers in PinkCuracao Partner - Floris & Moombathe Caribbean. The goal of PinkCuracao is to increase the number of LGBT vacationers visiting the island.
Frank Holtslag, General Manager of the Floris Suite Hotel, notes: "Curacao is the leading LGBT travel destination in the Caribbean. Becoming a partner of PinkCuracao shows once more our commitment to these vacationers"
The website also functions as a marketing channel for LGBT-friendly businesses on the island looking to invest in this travel segment by getting listed in the PinkDirectory, an online business directory.
"We want to bring the travelers into contact with the local businesses big and small that are LGBT-welcoming", the organization says, "through the business directory, contact@pinkcuracao.com +5999 665 7465 pinkcuracao.com facebook.com/pinkcuracao +5999 666 7465 +5999 667 7465 PinkDirectory, travelers can easily find LGBT friendly or welcoming hotels, apartments, stores and activities on the island."
PinkCuracao Partner - Landhuis BloemhofBy becoming a partner and getting listed in the PinkDirectory Floris Suite, Moomba Beach, Landhuis Bloemhof and Chata are showing that they welcome LGBT vacationers to the island.
"Before Curacao did not have a way to reach out to this specific and interesting group of vacationers, but now we can reach them by partnering up with PinkCuracao and show our friendliness at the same time", according to Sinuhe Oomen, the General Manager of Landhuis Bloemhof.
Source: The Curacao Chronicle