UNWTO, China Organize First World Conference on Tourism for Development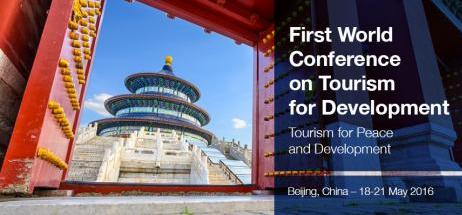 The World Tourism Organization (UNWTO) and the Government of the People's Republic of China will organize the First World Conference on Tourism for Development in Beijing on 18-21 May 2016. Under the theme 'Tourism for Peace and Development', the event aims to kick start a high level debate on the contribution of tourism to the Sustainable Development Goals (SDGs).

The high level segment of the Conference on 'Sustainable Development through Tourism' will analyze how to advance the contribution of tourism to the 17 SDGs, including the sector's ability to create jobs, promote local culture and be an agent of change towards more sustainable consumption and production (SCP) practices.

Moderated by CNN anchor and correspondent, Richard Quest, the high level segment will discuss how countries can align their national development strategies with the SDGs and the role of public and private partnerships in the 2030 Sustainable Development Agenda.

"Tourism is one of the most dynamic economic sectors, with significant global reach, and as such can make an important contribution to the achievement of the SDGs, particularly in the areas of job creation, sustainable consumption and production and the preservation of natural resources, as stated in Goal 8, Goal 12 and Goal 14 of the SDGs," said UNWTO Secretary-General, Taleb Rifai.

The conference will be complemented with two high level sessions focusing on:

Tourism for Poverty Reduction' which will discuss how governments, the international community, the private sector, and academia can collaborate to enhance tourism's contribution to poverty reduction and how to better integrate marginalized and disadvantaged groups, particularly youth and women, into the global tourism value chain.

Tourism for Peace which will focus on the links between tourism and the building blocks of peace – social justice, human rights, economic equity, sustainable development, democracy and non-violence. The session will also explore how to make the sector more "peace-sensitive" and outline opportunities and the way forward to ensure tourism can play an effective role in peace building.

The celebration of the First World Conference on Tourism for Development in China comes after the decision of the China National Tourism Administration (CNTA) and the State Council Leading Group Office of Poverty Alleviation and Development of China to promote rural tourism as an effective means to fight poverty.

The positive impact of tourism is behind the decision of Chinese authorities to launch the 13th Five-Year Plan Period, a nationwide tourism development plan to lift 17% of the country's impoverished population out of poverty by 2020.
According to this plan, CNTA and the State Council Leading Group Office of Poverty Alleviation and Development of China expect that by 2020, three million rural tourism businesses will be receiving two billion annual visitors, lifting two million of China's rural population out of poverty every year. The total income generated is estimated to reach over one trillion RMB Yuan benefiting 50 million rural residents.