WTM Latin America Spends on Customized Actions for Exhibitors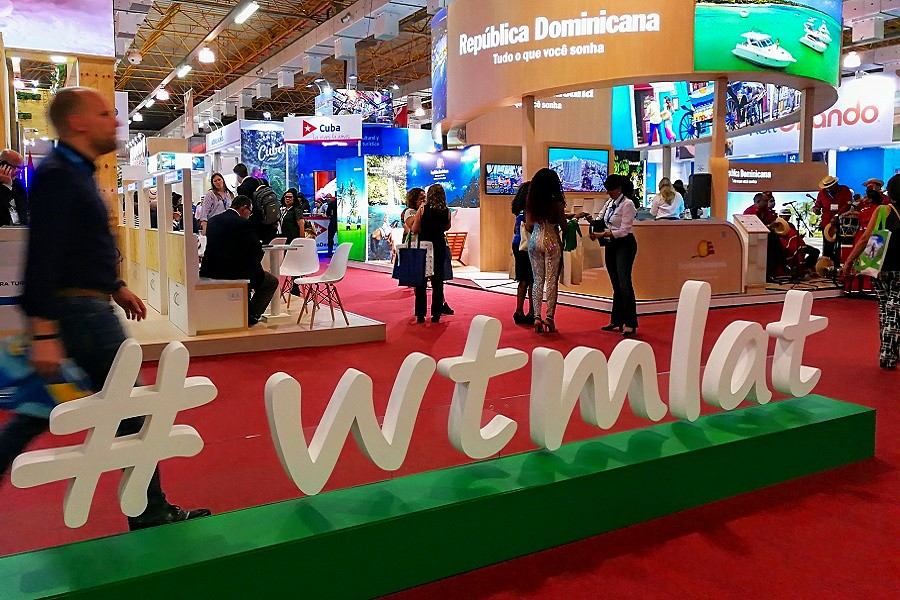 Since the latest edition of WTM Latin America, the management of the event has invested in personalized and experience-focused actions. The project, which is called WTM Live, is an initiative that promotes business and networking with differentiated actions inside and outside the fairground.
For the 2020 edition, which will take place from March 31st to April 2nd, at Expo Center Norte, in São Paulo, WTM Latin America will intensify the proposal of actions within this operational model. Luciane Leite, director of the event, says that the public attending WTM is mainly looking for two points: opportunities for new contacts for future business generation and qualified content. "Our DNA, as an event, is to build bridges so that businesses grow, but we know that customer behavior has changed in recent years, and the actions of content and knowledge creation gain more popularity every year, the creation of WTM Live follows the evolution and transformation of this market," explains Luciane.
WTM Live creates tailor-made opportunities to meet exhibitors' demand and event participants' desires. In the 8th edition, the portfolio of activities and training will be expanded. Countries such as Costa Rica, Peru and Chile have already invested in special actions that will take place inside and outside the exhibition hall.
"Some exhibitors ask us for actions that go beyond what we usually offer at WTM Latin America. For this reason, we study, create and offer personalized actions to expand the exhibitor's participation, strengthen networking and transmit content in a more qualified and exclusive way to the guests of the actions that take place during WTM Live," says Bianca Pizzolito, sales manager of WTM Latin America.
Breakfasts, dinners, trainings and happy hours, among other activities, are planned for WTM Live. The actions can be directed to hosted buyers, travel agents of the Agent on the Road program, or even the national and international press. Bianca emphasizes that the programming outside the fairgrounds will be carried out at alternative times. "We created WTM Live with the purpose of adding new experiences to the exhibitor and the visitor, however, the actions that require displacement occur before the opening of the event or at the end of the day, when the fair is closed, so as not to harm the flow and the commitments already established by the participants", explains Bianca.
In the 2019 edition, the WTM Live platform developed actions with Lufthansa, with the destination Porto de Galinhas and organized an exclusive dinner for BBG Brasil clients. "WTM Live is an evolution of the fairs and events industry that brings together experience, content and networking", concludes Luciane.
More information: https://latinamerica.wtm.com/
WTM Latin America attracts around 9 thousand senior executives and generates approximately US$ 374 million in new business. The show takes place in São Paulo, Brazil, and has a global audience that meets and defines the direction of the travel and tourism industry. http://latinamerica.wtm.com/. Next event: March 31st to April 2nd, 2020 - São Paulo.
About World Travel Market
The World Travel Market (WTM) portfolio consists of six leading B2B events on four continents. These events generate over US$ 7 billion in industry business. The events are as follows:
WTM London, the premier international event for the travel and tourism industry, is a must-see three-day exhibition dedicated to the industry worldwide. Nearly 50,000 senior industry professionals, government ministers and members of the international media visit the ExCeL London each November, and generate around £3.1 billion in travel and tourism industry contracts. http://london.wtm.com/.  Next event: 4-6 November 2019 - London.
T>F Travel Forward is a new travel technology event held in conjunction with WTM London and is part of the WTM portfolio of events. The next edition of the Travel Forward exhibition, conference and buyers' programme will take place from 4-6 November 2019 at the ExCeL London and will showcase the latest travel and accommodation technology.
WTM Africa was launched in 2014 in Cape Town, South Africa. Around 5,000 industry professionals are participating in Africa's premier inbound and outbound travel and tourism show. WTM Africa offers a combination of proven success from hosted buyers, media, pre-arranged appointments, face-to-face networking, evening ceremonies and invited travel trade visitors. http://africa.wtm.com/. Next event: April 6-8, 2020 - Cape Town
Arabian Travel Market (ATM) is the premier international travel and tourism event in the Middle East for inbound and outbound tourism professionals. ATM 2018 attracted nearly 40,000 industry professionals representing 141 countries during its four days. The 25th ATM had more than 2,500 exhibiting companies in 12 halls of the Dubai World Trade Centre. Arabian Travel Market 2020 will take place in Dubai, from 19th to 22nd April 2020. To find out more, visit: www.arabiantravelmarket.wtm.com.
CONNECT Middle East, India & Africa is a new route development forum taking place in conjunction with Arabian Travel Market. The event will include unlimited pre-scheduled individual appointments, a conference programme, panel discussions and industry briefings, as well as a special exhibition area for airports and suppliers.
About Reed Exhibitions
Reed Exhibitions is a world leader in events and reinforces the power of face-to-face meetings through information and digital tools at over 500 events per year, held in more than 43 countries and attracting more than 7 million participants. Reed events are held in the Americas, Europe, the Middle East, Asia-Pacific and Africa, and organised by 41 fully staffed offices. Reed Exhibitions serves 43 industry sectors with trade and consumer events. It is a member of RELX Group plc, a world leader in providing information solutions to professional customers across a range of industries.
About Reed Travel Exhibitions
Reed Travel Exhibitions, a world leader in the organisation of travel and tourism events, has a growing portfolio of over 22 international trade events in the Americas, Europe, Asia, the Middle East and Africa. Our events are market leaders in their sectors, whether they are global or regional leisure travel trade events, specialising in meetings, incentives, conferences and events (MICE), corporate travel, luxury travel, travel technology or golf, spa and ski trips. We have over 35 years of experience in organizing major travel and tourism exhibitions worldwide.