London Hotel Starts Taking Covid-19 Patients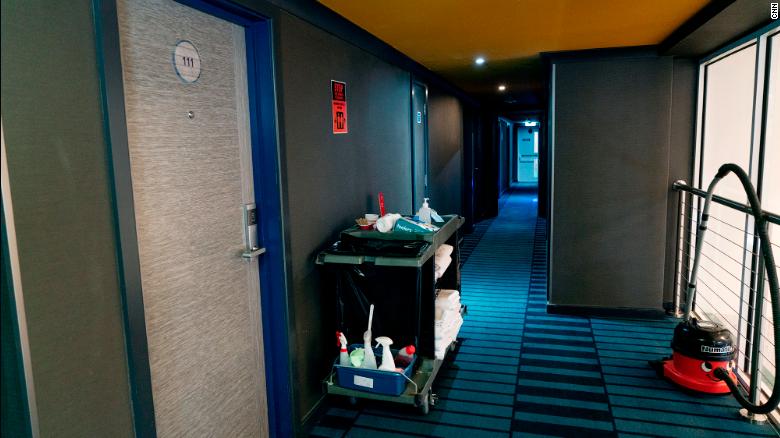 The Best Western Hotel in the London suburb of Croydon would normally be packed with visiting families, out-of-town construction workers, and business travelers.
But today the lobby is clear of all guests and furniture except for a single table with a bottle of hand sanitizer, a box of face masks and a notice that reads, "Coughs and sneezes spread disease."
A four-foot machine emblazoned with the phrase "Viruskiller" whirs behind the empty check-in counter.
This 107-room inn is now a recovery ward for coronavirus patients, as part of a pilot program to relieve local hospitals that are under enormous strain in the second wave of the pandemic.
The hotel's manager Alex Palaghiu said the transition from 4-star hotel to makeshift medical facility was driven by the need to help the country's ailing National Health Service (NHS).
This is the first hotel in the UK to take part in the scheme, but if successful, it could be a model for converting more of the hospitality industry's spare rooms, many of which lie empty amid the country's lockdown.
The NHS is currently staggering under an unprecedented crisis with more coronavirus patients in hospital than at any point in the pandemic. A new, more infectious variant of Covid-19, which officials say is out of control, has caused record-breaking infection rates.
And Prime Minister Boris Johnson has warned the country's intensive care units (ICUs) face substantial risk of being overwhelmed by the disease, which has infected more than 3.2 million people and killed 84,000.
Hospital beds are now one of the most precious commodities in the country, but so far, there are only three patients recovering on the first floor of the otherwise empty hotel.
There are no medical workers at the hotel in Croydon to support the patients, all of whom are in the final days of their isolation period and need minimal care.
The 4-star hotel is just around the corner from a major hospital and staff here say they are desperate to provide some reprieve for the overwhelmed doctors and nurses.
Source: CNN