Grenada Brings the Spice of the Caribbean to ITB Berlin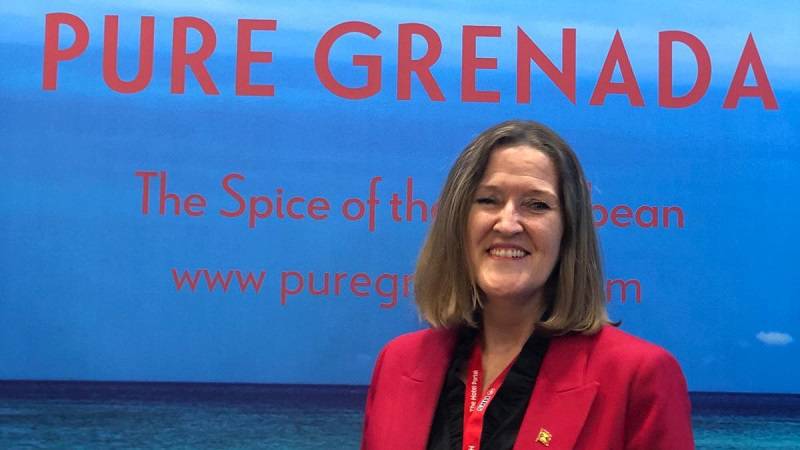 Q & A with Patricia Maher, CEO of the Grenada Tourism Authority
By Emilia Padin and Veronica de Santiago
ITB Berlin is coming around and this year the small island of Grenada has a stand to call its own for the first time. The "Spice of the Caribbean" has lots of choices to offer, so Patricia Maher, CEO of the Grenada Tourism Authority, sat down once again with Caribbean News Digital to talk about their plans for the German market with the sight set on the high-end luxury segment.
You've been to many fairs, but how is ITB different from other fairs and how relevant is the German market to Grenada?
The German market is very relevant to Grenada. We have a Condor flight that comes to Grenada from November right through April. The business is growing and the numbers are up, so we want that growth to continue in the German market.
What draws specifically Germans to Grenada?
I think Grenada takes all the boxes when it comes to the German client, what they come looking for. It's a very small, safe destination, so you can easily go out of your hotel and connect with locals, which is a big advantage because Germans like to connect with locals, with the people. When they go to a destination they love to explore and they love to experience nature, and Grenada has such an abundance of nature with over forty white sandy beaches that we have, as well as the rainforests. So, you have the best of both worlds on an island like Grenada.
Is the German segment a family market? Do you have a lot of family-travel visitors?
We're more for, say, the over-forty and over-fifty couples. It's more of a couple market in terms of the Germans that come to us. We do have family-friendly hotels, of course, but I think the Germans that come to Grenada are generally over forty, well-to-do and they have time and they love to explore. That's our target market.
You said at the top of your interview that you want this growth in the German market to continue. Are you just focusing on that over-forty, well-to-do segment or are you just trying to diversify your offer?
We're very focused here. This is our first time having our own stand here at ITB Berlin, and it's a designer "Pure Grenada: The Spice of the Caribbean" stand, so we're focused on the high-end luxury market. We have Silver Sands Grenada that has come to join the Grenada family and their product is ultra-luxury, and they have over 43 suites and 9 villas, so we're targeting the high-end German market in particular. We also have Laluna here with us. We have Spice Island Beach Resort with us, and the sister property Blue Horizon Gardens Resort. We have a nice cross section of products for the high-end luxury German market.
Are there any new additions to the resorts that you have just mentioned as part of, as you put it, the Grenada family?
We're definitely very excited about the Kimpton Kawana Bay on the beautiful Grand Anse Beach. So, on the very far end of the beach we're going to have the Kimpton Kawana Bay with over 200 rooms, with the first phase of 100 rooms slated to open in 2020.
Grenada is known as the Spice of the Caribbean, so how important is gastronomy for the island of Grenada?
It's super important because we're famous for our spices, you know, cinnamon, nutmeg, ginger. All those spices are part of our cuisine. For example, we even have nutmeg ice cream. So, we have an amazing cuisine on offer and Grenada has lots of restaurants. So, if you want to go out and eat local food, you can easily find it, either on Grand Anse Beach or in the countryside. The food is very tasty, very flavorful and full of spices most definitely.
Two years ago, we had four chocolate factories and now we have five. You can also go out and visit those beautiful chocolate factories and do the tour; you can learn about the process and taste out chocolate bars. For foodies, it's a great place to come to and we have our chocolate as well and we have lots of desserts made of chocolate as well. Calabash does an amazing chocolate dessert with homegrown organic chocolate.
As a matter of fact, are you working to have an organic cuisine?
You know what's funny? In Grenada, since it's pure, everything is organic already. We're very, very lucky because we're blessed with mother nature, so the island is pure and everything is organic.