Las Vegas to Showcase its Very Best at IPW 2020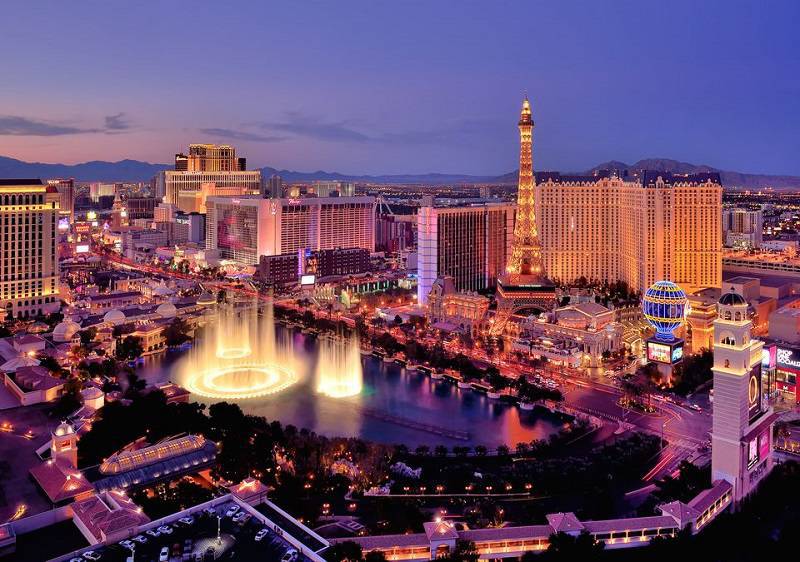 The Entertainment Capital of the World will introduce more than $6 billion of new tourism offerings at IPW 2020, May 30-June 3. Next year, the destination will unveil a variety of world-class attractions and entertainment, convention and meeting complexes, as well as sports facilities and new culinary establishments.
As IPW's host city for the fifth time, Las Vegas looks forward to celebrating record-breaking attendance by welcoming more than 6,000 travel buyers and nearly 500 media to highlight new resort amenities including an unforgettable opening event at CAESARS FORUM.
"Caesars Entertainment is honored to open IPW 2020 in Las Vegas by showcasing the newest addition to the family – the $375 million, 550,000-square-foot CAESARS FORUM Conference Center – to key travel industry professionals," said Annette Weishaar, senior vice president of channel marketing and partnerships for Caesars Entertainment. "The opening event will highlight the conference center's 300,000 square feet of flexible meeting space, the two largest pillarless ballrooms in the world and the 100,000-square-foot outdoor plaza. CAESARS FORUM also offers direct access to Harrah's Las Vegas, The LINQ Hotel + Experience and Flamingo Las Vegas, providing more than 8,500 hotel rooms in immediate proximity."
Las Vegas is a key destination for international travelers, which represents 20 percent of annual visitation and accounts for 23 percent of overall visitor spending. International visitors tend to stay longer and spend more, making IPW 2020 a substantial platform for cultivating business opportunities.
"IPW represents a tremendous opportunity to interact with the top industry visionaries and decision makers to elevate Las Vegas on an international scale," said Steve Hill, CEO/president of the Las Vegas Convention and Visitors Authority (LVCVA). "Las Vegas is rapidly evolving with impressive development and innovation which will solidify our position as the top U.S. travel destination. We look forward to welcoming IPW attendees next year to share these defining moments with us."
IPW is the travel industry's most important international marketplace, with an opportunity to demonstrate all that is new to see and do. As the host city, Las Vegas also receives invaluable media exposure across the globe. When the destination last hosted IPW in 2013, the event attracted an astonishing 6,400 attendees generating an estimated $8 million in economic impact.
During IPW 2020, both first-time visitors and repeat travelers will be amazed by the development taking shape throughout the destination. Billions of dollars have been invested since 2013 and there is an extensive list of new attractions, venues and sports facilities to explore. Updates also include significant renovations to the nearly 150,000 hotel rooms available for visitors, inspiring entirely new experiences for first-time and returning visitors alike.
"Nevada welcomes the world to Las Vegas for IPW in 2020. We are pleased to partner with the LVCVA to make this an unforgettable experience," said Lt. Governor Kate Marshall, chair of the Nevada Commission on Tourism. "We work proactively around the globe to attract visitors to Nevada, and we know that what the international tourism industry sees during IPW will make them want to visit again and again and tell their clients and customers to do the same. Attendees will have the opportunity to see much of Nevada for themselves during post-IPW tours, and we are looking forward to being the ultimate host in 2020!"
During the press conference, Las Vegas welcomed a special performance from Duo Vector from ABSINTHE at Caesars Palace. Produced by Spiegelworld, ABSINTHE is an acro-cabaret variety show featuring wild and outlandish acts in a theatre-in-the-round presentation.
"Las Vegas is a huge draw for international visitors, and this is a phenomenal opportunity to showcase all that the city has to offer," said U.S. Travel President and CEO Roger Dow. "There is always something new and exciting in this remarkable destination, and we are thrilled to bring the world to Las Vegas once again for IPW."
The LVCVA continues to foster business relationships with airline partners to explore possibilities for expanding international service, instrumental in increasing international visitation. Las Vegas currently welcomes 229 nonstop international flights per week from 26 cities in 10 countries.
The Las Vegas Convention and Visitors Authority (LVCVA) is charged with marketing Southern Nevada as a tourism and convention destination worldwide, and also with operating the Las Vegas Convention Center. With nearly 150,000 hotel rooms in Las Vegas alone and more than 11 million square feet of meeting and exhibit space citywide, the LVCVA's mission centers on attracting ever increasing numbers of leisure and business visitors to the area.