Virginia Tourism Celebrates 50 Years at IPW 2019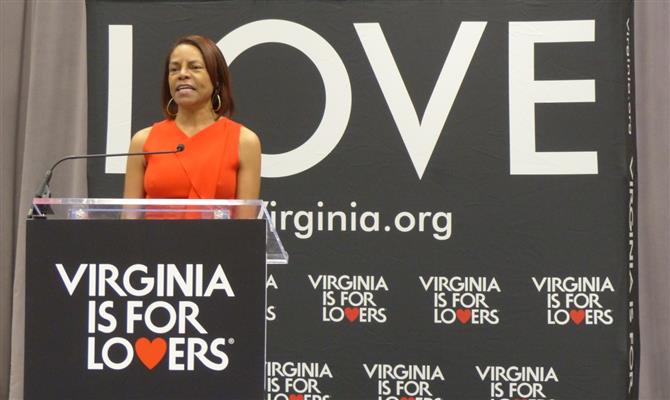 The Virginia Tourism Corporation today marked the 50th anniversary of their brand Virginia is For Lover during a press conference at U.S Travel's IPW 2019 at the Anaheim Convention Center.
President and CEO of Virginia Tourism, Rita McClenny, kicked off the event for international travel press with a toast to 50 Years of Love, then shared with her special guests some of the many unique activities and new projects taking place across the Commonwealth this year.
Rounding out the celebration was guest speaker Mike Whiteside, star of the internationally aired television series 'Salvage Dawgs', who shared his personal insight into why Virginia is for Lovers.
The state brand, Virginia is For Lovers was created in 1969 and since its inception, has become one of the most beloved and well-known tourism and travel slogans in the world. By popular vote, Virginia is For Lovers was inducted into the Madison Avenue Advertising Walk of Fame on September 21, 2009.
The slogan was included in the Advertising Icon Museum alongside fellow 2009 inductees, the AOL Running Man, the Budweiser Clydesdales, and State Farm's "Like a Good Neighbor, State Farm is There." This recognition came on the heels of Forbes.com tapping Virginia is For Lovers as one of the top ten tourism marketing campaigns of all time.
"For 50 years we have lived, breathed and loved our brand – that is part of what makes Virginia so very special," stated Rita McClenny. "Today, visitors from all around the globe are discovering love for Virginia's mountains, beaches, history, vibrant cities, music, and booming culinary scene."
To celebrate this milestone anniversary, participating regions across Virginia are joining in the fun in their own special way. Throughout 2019 there will be commemorative craft beers at breweries and lovers blends at wineries; 1969-inspired meals and prices at restaurants; special 50 Years of Love events, contests, giveaways, and much more.
"For example," shared McClenny, "visitors to Virginia can stop by a vintage Volkswagen van, repurposed as a mobile visitor center, during Loudoun County's 'Summer of Love' Tour. Or stay in a 50 Years of Love themed suite in Floyd."
Mrs. McClenny also highlighted some of the entertainment that has helped place Virginia on the world stage over the years, from Academy Award-winning movies to music videos. She shared with attendees some of the upcoming projects to film in Virginia – including the third series of The Walking Dead franchise, in production this summer, and Australia's Dancing with the Stars to film this month at the home of the ever-popular movie Dirty Dancing: Virginia's Mountain Lake Lodge in the Blue Ridge Mountains.
To toast the 50th anniversary at IPW 2019, Virginia Tourism served Greenhill Winery & Vineyards Blanc de Blanc. The award-winning Virginia wine has been included in past Oscar award gift bags and is a superb example of the fine vintages available from the almost 300 – and growing – wineries in Virginia.