IPW 2019: USTA Top Execs Spell Out the Importance of Travel for America
By José Carlos de Santiago and Jorge Coromina
IPW 2019 is winding down as it heads into its final day. In a press conference attended all the news media gathered in Anaheim, California -including Caribbean News Digital- high-ranking members of the United States Travel Association (USTA) touched on a number of matters related to how important travel and tourism are for the U.S. economy.
Caribbean News Digital gives our readers a comprehensive look at most of the answers to the press, broken down in topics, provided by USTA president Roger Dow, USTA national chair Elliott L. Ferguson, and the organization's executive vice president for public affairs and policies, Tori Barnes.
Travel from China
"China will generate $5.5 billion in direct travel spending in the United States over the next three years, compared to $4.7 billion the year before," Mr. Dow was quoted as saying.
"Visitation from China basically slipped by about 200,000 travelers, from 3.2 million in 2017 to approximately 3 million in 2018. We're watching very closely all recent announcements concerning China.
"Travel is trade. About six months ago, China issued a travel warning for the US because of health and crime issues. We're doing everything we can on the travel side to get over this situation. It's important for our two countries to understand how important tourism is and keep in mind that they shouldn't throw travel into this political game that's going on. We're strongly advocating and voicing that travel should not be used as a political weapon," he added.
The Visa Waiver Program
"The UK, Ireland, the USVI, Bahamas and Bermuda have been included in that program and now Sweden will be next, probably next year. I can tell you that Brazil, Argentina, Costa Rica, Poland, Israel, Romania, Croatia and Bulgaria will also be next and we'd like to have them all onboard as soon as possible. We're working for that goal and we're building a lot of pressure on that matter," Roger Dow explained.
"President Donald Trump has been very positive on this matter, but there are two or three people in his administration that consider foreign people coming to America under the visa waiver program as a problem.
The Mexican Travel Market
"The Mexican tourism is extremely important to us. In 2017, we received 17.8 million Mexican tourists, and that figure accrued to 18.5 million last year. So, we're working extremely hard to talk to the visitors from Mexico to come here and don't get tangled up in this cobweb of politics. We're going to keep the drumbeat and say "still come to America". The bottom line is Mexico is a very important market for us. We want them here and Brand USA is promoting big time there," Mr. Dow told the press attending IPW 2019 in Anaheim, California.
Brazil and its Visa Waiver Program for Americans
"Brazil recently waived the visa program for Americans. Our doors are open to make that happen. It has to happen on both sides to make it happen.
Let me give you an example. When South Korea entered the visa waiver program, visitation from South Korea went up 46 percent in just one year. If we're going to look at a visa waiver for Brazil, the number of Brazilian visitors to the US will grow for approximately 1 to 1.5 million over night.
But it's important to watch the Brazilian economy grow for that purpose. For this industry, this is very important, so we'd like to see more dialogue and more talks on this respect from the part of these two administrations. Let's keep the dialogue going and figure out what's in store for Brazil," Mr. Dow answered.
The Vote to Defund VisitFlorida
"VisitFlorida now has a fund level of $76 million from a fund level of $26 million that it had had over the past 10 to 15 years. When Rick Scott became governor, we talked with him and he recognized the importance of travel for Florida, so he immediately began working to raise the budget of VisitFlorida until he reached the figure of $76 million.
"Over the past five years, VisitFlorida had managed to bring in around 80 million visitors and it stopped there. Last year, VisitFlorida brought in 116 million visitors, the best numbers ever.
"For me, that's a huge mistake. We've worked very hard with them and we got down there when they first tried to cut down on the budget two years ago. Last year, the state congress managed to bring the VisitFlorida budget from $76 million down to $50 million.
"This is a problem we've seen all across America. We've seen in Pennsylvania, in Washington, in Colorado, and when that happened, a few years later tourists stopped coming to those states. We're very concerned about that and we're very engaged in reversing that," said Mr. Dow into the press conference.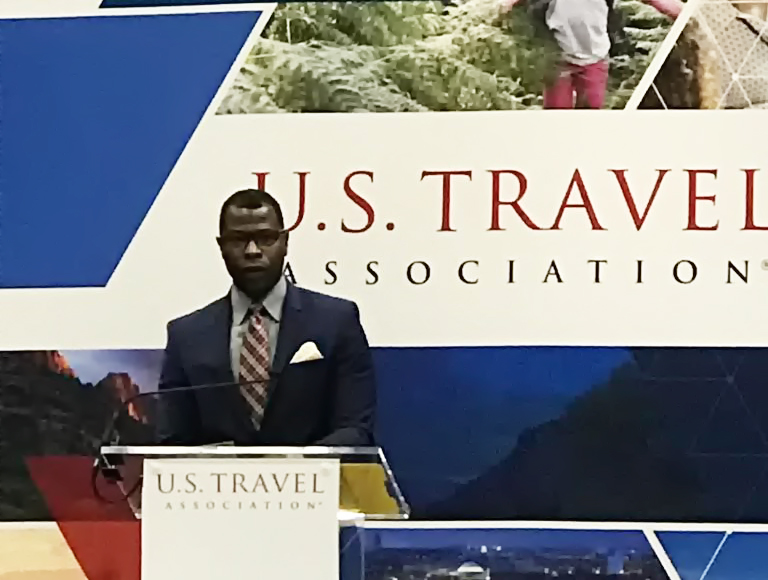 The Impact of IPW
"On the impact of IPW is important. Last year, travel to the U.S. grew by 3.5 percent. That might be consider pretty good, but nor considering the impact of global travel last year. This means we have a lot of work to do to convince this administration of President Donald Trump how crucial travel is for the United States and for the U.S. economy. We sat down with the president and explained to him that travel to the U.S. can be accomplished without compromising the homeland security," said Elliott L. Ferguson.
"We discussed with the president the value of Brand USA. We talked about expanding the visa waiver program to include more qualified countries. His administration has shown determination and willingness to work with a number of travel agencies, and now we're dealing with those matters, directly with the Trump administration, on a nearly weekly basis," Roger Dow added.
"America should be the most secured and most visited country in the world, and we have to plan how to achieve that. Over a third of foreign visitors to the US go to the national parks. We assume sometimes that people visiting the US already know the many great things that America has to offer," he concluded.
For her part, Tori Barnes, US Travel Association executive vice president for public affairs and policies, said that "some people don't understand travel as an export, but when foreign people travel to the US and stay in hotels, eat at the restaurants or purchase something in a store, that's considered an export, as well as other transactions they might make on U.S. soil. $256 billion spending in the US by foreign travelers in 2018. And while the trade deficit last year hit a record high of $622 billion, travel actually generated a trade surplus of $69 billion," she said.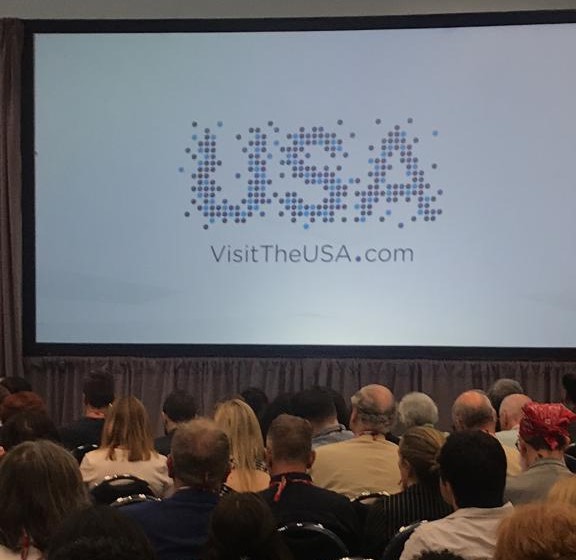 Read More:
IPW 2019: Tourism Remains Top Powerhouse for the U.S. Economy
Brand USA Announces Third Film Release at IPW 2019
Visit USA Australia and New Zealand Kicks Off IPW 2019
Disneyland's Star Wars-Themed Attraction Gets Hyped at IPW 2019