CTO's SOTIC Gathering to Start in Barbados this Week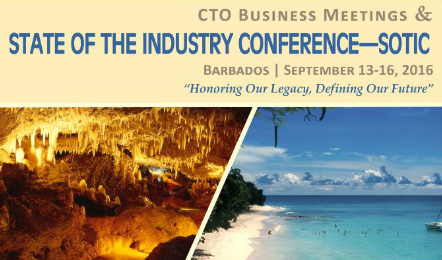 The Hilton Barbados is the venue for CTO's annual State of the Industry Conference this week. Caribbean tourism leaders are gathering in Barbados this week to honor the legacy and define the future of their business.
That's the plan, at least. It's also the theme, the goal and the agenda set for the Caribbean Tourism Organization's (CTO) annual State of the Industry Conference, taking place Sept. 14 to 16 at the Hilton Barbados Resort in Bridgetown.
The agenda is ambitious, covering topics ranging from emerging and multicultural markets to strategies to counteract or reduce security threats.
Keynote speaker Adam Stewart, CEO of Sandals Resorts International, will share his views on how to cash in on the opportunities that lie ahead for Caribbean tourism.
"We're on the precipice of interesting days," Stewart said. "I am excited to consider how, together, we will continue to make a visit to the Caribbean absolutely compelling."
Airbnb's Shawn Sullivan, policy lead, Central America and the Caribbean, will join a panel to discuss the sharing economy, a $26-billion-dollar sector. Airbnb has become a key player in that sector since the company was formed in 2008.
Helping to pilot the Caribbean tourism industry through its state of flux will be Taleb Rifai, secretary general of the U.N.'s World Tourism Organization (UNWTO), David Scowsill, president of the World Travel & Tourism Council (WTTC) and Hugh Riley, secretary general of the CTO.
"The commitment of the UNWTO and the WTTC to participate in this conference fulfills our mandate to make leaders of the global tourism industry accessible to our members and to share ideas on how to resolve issues to take advantage of global tourism opportunities," Riley said.
Prior to the conference, Riley pointed out that "there is really no status quo in the tourism sector. It's a dynamic industry; it's vulnerable to external shocks; things are always changing, but the sector always recovers."
One of the highlights of the conference, as has been the case in the past, will be the Youth Congress where Caribbean students between 14 and 17 years old will share their vision for the future direction of regional tourism.
This has always been one of the best-attended and most thought-provoking sessions of the week, a fact noticed by older tourism ministers and leaders.
Finally, the subject of intraregional air service again will be tackled. The issue has long been a challenge for the region. The workshop will investigate how the Caribbean can "get it right."
Source: Travel Weekly