Cuba Unveils Second Edition of Foreign Investment Portfolio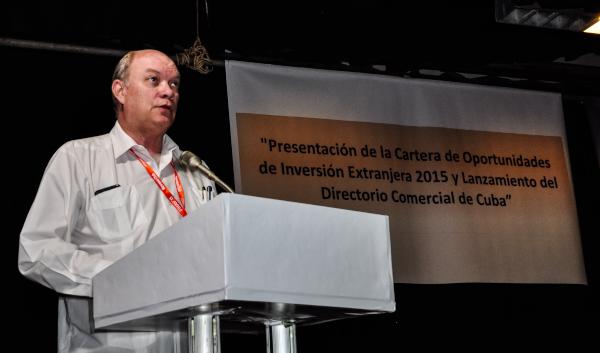 The second edition of the Foreign Investment Opportunity Portfolio and Cuba's Trade Directory were rolled out Tuesday by Rodrigo Malmierca, minister of Foreign Trade & Investment, during the second day of the 33rd Havana International Fair.
In his keynote presentation, the Cuban minister spelled out Cuba's features as an ideal place to invest and do business in, given its privileged geographical location. He went deeper into the abundance of well-trained and qualified workforce foreign companies could count on, as well as countless scientific and academic institutions to choose from. "We don't want to depend on just one market anymore," he said.
The current edition of the portfolio adds 80 new projects to the previous edition, with potential investments all across the island nation for an estimated total value of $8,173 billion. "We're working hard to separate state functions from business activities. We recognize the role other property and management forms ought to play in our society," he was quoted as saying.
This time around, the portfolio adds three projects that target the creation of facilities for the advance of exportations linked to medical tourism and sport-oriented sectors. In the same breath, 36 new businesses were set up, half a dozen of them in the Mariel Special Development Zone and the remaining 30 in the rest of the country. Mr. Malmierca underscored the addition of audiovisual businesses and the wholesale field, each of them with three projects apiece aimed at boosting up those activities in the countries. Across the board, a dozen economic sectors are covered in the new portfolio, with highlights in tourism (94 projects), oil (86) and agriculture and food (40).
Just another standout in the new portfolio is the healthcare sector, featuring three projects for medical tourism facilities, as well as healthcare services related to sports. Up for grabs in the case of tourism, there will be contracts for the management of marinas. There are also four projects linked to golf course developments.
At the Expocuba Theater, Mr. Malmierca also unveiled the Trade Directory of the Republic of Cuba, embracing 323 companies associated to 22 sectors. These companies are entitled to export, import and produce goods. This tool will make it easier for Cuban and foreign entities alike to make contacts among themselves. It also includes commerce technical regulations.