Havana Club Presents its Iconic Collection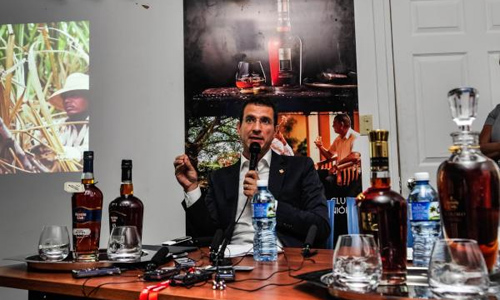 Premium rums from the Havana Club brand, culled in its Iconic Collection, are now on sale in 25 countries around the globe, the company announced during a presentation at FIHAV 2015.
Made up of Havana Club Selección de Maestros, Havana Club Aged 15 Years, Havana Club Unión and Havana Club Máximo, the Iconic Collection is meant to target consumers of extra deluxe rums, said Jérome Cottin-Bizonn, director general de Havana Club International, during the presentation.
Havana Club International, founded in 1993 out of a fifty-fifty joint venture between Cuba Ron and Pernod Ricard, sold way over 4 million cases of rum in 2014 (roughly 50 million bottles), with a quarter of that total sold in the Cuban market.
In spite of making sales jump tenfold since the early 1990s, Havana Club remains banned in the United States as a result of the economic embargo imposed by the U.S. government on Cuban goods.
However, since early this year and as part of the actions taken by the administration of President Barack Obama aimed at normalizing relations with Cuba, American citizens that visit the island nation could return to the U.S. with $100 worth of Cuban rums and habano cigars.