Eight Projects Get the Green Light in Mariel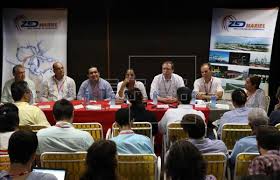 The first eight projects approved for the Mariel Special Development Zone (ZEDM) were presented Thursday in FIHAV 2015, Cuba's number-one tradeshow that this time around is gathering 70 countries in its 33rd edition.
Wendy Miranda, ZEDM Arrangement Coordinator, told the press that five of those businesses will be developed with 100% foreign capital.
The other three projects belong to Cuba-Brazil cigarette-making joint venture Brascuba, a Cuban company that will provide logistics inside the Mariel Zone and to Singapore's PSA for the management of the container terminal.
Two of the five projects with full foreign capital went to Mexico's Richmeat meat packager and Devox Caribe for the manufacture of paints. Two others belong to a Belgian company (BDC) in the fields of logistics and technological development. On the other hand, Spain's ProFood, a producer of foodstuffs and beverages for the hotel sector, also nabbed one of the contracts.
Charles A. Baker, director general of the Singapore-run container terminal at ZEDM, said that by December this year –as soon as the dredging process comes to a close- the Mariel seaport is expected to welcome the first Panamax vessel (transshipment freighters with the right size to sail through the Panama Canal). Moreover, Mr. Baker explained preps are under way to receive the first Post-Panamax vessels (ships too large to fit through the Panama Canal) in 2016 and once the enhancement works are finished.
For his part, BDC general manager Benoit Croonenberghs said it was a privilege for his organization to be among the harbingers of this major development zone, with the possibility of sharing and applying the company's experiences on the premises.