Visit USA Australia and New Zealand Kicks Off IPW 2019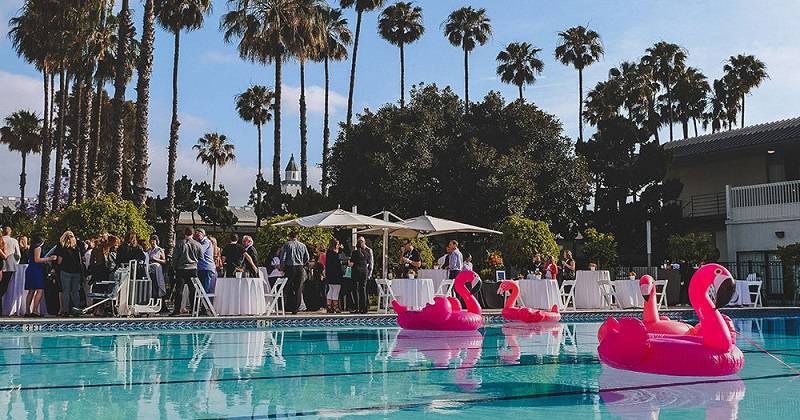 The Anaheim Hotel Pool Deck set the scene for the Visit USA Australia and New Zealand opening industry event for IPW 2019 in Anaheim, California, over the weekend, themed as a California Pool Party.
This invitation-only exclusive event was sponsored by Visit Anaheim, The Anaheim Hotel, Walt Disney Parks and Resorts, American Airlines and TravMedia, and was attended by over 250 guests from the US, Australian and New Zealand travel industry.
Guests were treated to live entertainment and a taste of America's culinary scene, including Californian wines, in a social setting fostering comradery amongst all tourism partners selling the USA.
Travel industry guests were thanked and welcomed by key speakers, Lucy Rowe (Visit USA Australia), Darragh Walshe (Visit USA New Zealand), Michael Cassis (Walt Disney Parks and Resorts), Derek Stewart (American Airlines), Tina Riley (The Anaheim Hotel), Charles Harris (Visit Anaheim), and Nick Wayland (TravMedia).
Cover band Rebel Rebel shared their story on how they formed at Disneyland, acknowledging Walt Disney Parks and Resorts for their support and the importance of tourism to the Anaheim area.
Rowe said: The Visit USA Organization Australia prides itself on being associated with connecting our members through many events during the calendar year.
"Following a very successful expo series in Australia, we're thrilled to re-connect our members through hosting this annual opening industry event at IPW.
The U.S. Travel Association's IPW is the leading international inbound travel trade show, driving $4.7 billion in future travel to the United States.
It is a national showcase of America, where US travel exhibitors connect with travel buyers and media from more than 70 countries to promote their product, negotiate future business and build relationships.
Source: Travel Weekly (Australia)