Cuba Eyes U.S. Market to Expand Medical Tourism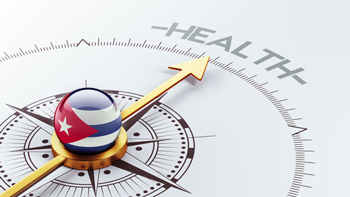 Football legend Diego Maradona blazed a path for Cuba to become a medical tourism destination when he traveled to the island for drug addiction treatment in 2000.

Since then, thousands of other famous and not-so-famous faces have traveled here for help, and the government wants to build on that success.

Drug rehab, post-accident motor skills rehabilitation, treatment for eye diseases and plastic surgery — foreign patients can get all of these services and more in Cuba, and at competitive prices.

In downtown Havana, at a clinic that specializes in eye procedures, fellow Venezuelan Carlos Armando Montana gushes about the services.

Cuba has long been known for producing quality doctors and providing excellent medical services, and as the government of President Raul Castro seeks to revive the island's economy, it is turning to medical tourism as a revenue generator.

Cuba's main source of foreign income is the sale of medical services to other countries — legions of doctors and nurses, who are public employees, travel abroad to work following an agreement with the host country.

While this generates billions of dollars a year, the related field of medical tourism is still in its infancy.

Servimed, a government-owned for-profit medical services company that caters to foreigners, has website pages in Spanish, French and English, the last two aimed mostly at Canadians.

Cuba welcomed 2.8 million tourists in 2012, according to official figures. There are no figures however on how many of those foreigners came specifically for medical treatment.

The Argentine football legend, who befriended Fidel Castro, was so enamored with the island that he has a tattoo of Che Guevara on his right shoulder and an image of Fidel tattooed on his left ankle.

African and Latin American leaders have also sought medical attention in Cuba, including Ecuador's Rafael Correa and — most notably — the late Venezuelan president Hugo Chavez.

At Havana's Cira Garcia Clinic, reserved for foreigners, breast augmentation surgery costs $1,248 (940 euros), compared to around $6,000 in the United States, $4,350 in Britain and $2,500 in Mexico, according to figures from the Organization for Economic Co-operation and Development (OECD).

There are plenty to choose from: Cuba has the highest number of doctors per residents in the world — one per 148 inhabitants, according to the World Health Organization.

In other countries, "what makes procedures expensive are the doctors, but in Cuba, they are paid like everyone else," Gonzalez said.

What adds to the cost however is the difficulty in obtaining medical supplies, which cannot be bought in the nearby United States due to a trade embargo in place for a half-century, Gonzalez said.

On any given day there are 2,000 patients at the Cira Garcia from around the world. Most come from Latin America, but there are also patients from places like Angola, Canada, Spain, and even Cuban-Americans from the US.

Other Havana hospitals, like the Hermanos Ameijeiras and the Gonzalez Coro, have opened "international rooms" to cash in on the influx of foreigners.

Hotels are getting into the business too, with places like El Viejo y el Mar (The Old Man and the Sea), Triton and Neptuno catering to medical tourists.

Aside from foreigners who pay in much-needed hard currency, thousands of Venezuelans travel to Cuba each year for free medical treatment, benefitting from an agreement that Chavez signed with Fidel Castro, then president, in 2000.

There are 43 health centers in Cuba that cater to Venezuelans, with the government in Caracas picking up the tab.