Mexico's National Association of Hotels, Termatalia Sign Convention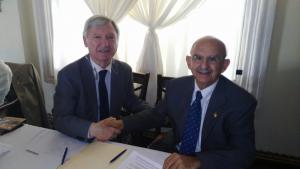 The President of the Association of Hotels of Coahuila State in Saltillo (Mexico), Rafael García, and the Director of Termatalia, Alejandro Rubín, signed a convention between Mexico's National Association of Hotels and Termatalia.
This agreement will allow numerous businessmen from the country's hotel sector to benefit from the actions to be developed during the 16th edition of the International Exhibition of Thermal Tourism, Health and Wellness slated from September 29 to October 1 in Mexico.
This convention is meant to be one more step forward in the good planning and organization of the international fair.