U.S. Files Antitrust Lawsuit against American Airlines, JetBlue Partnership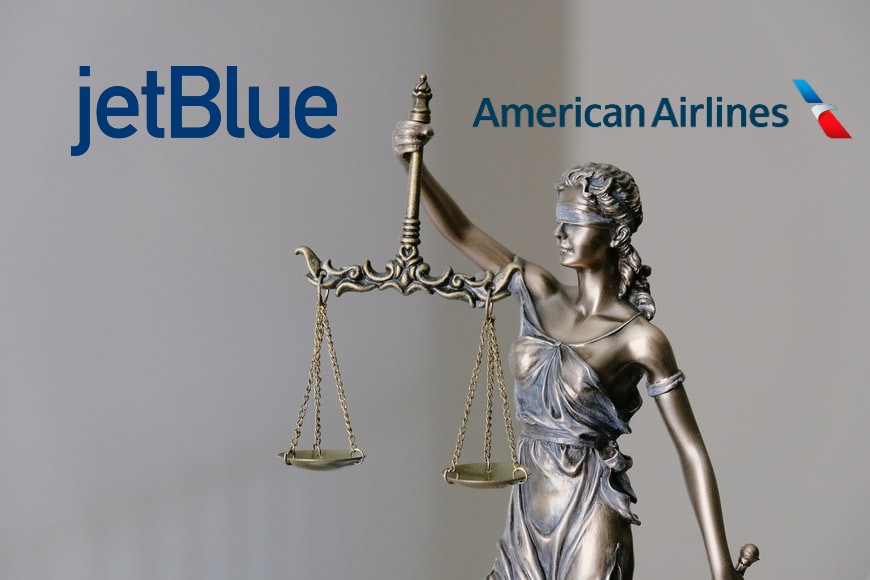 (Reuters) - The U.S. Justice Department and six states filed an antitrust lawsuit on Tuesday against American Airlines Group Inc and JetBlue Airways Corp. seeking to stop a partnership the government said could lead to higher fares in busy Northeastern U.S. airports.
The lawsuit asked a federal court in Boston to stop the "Northeast Alliance" partnership, announced in July 2020 and approved by the U.S. Transportation Department shortly before the end of the Trump administration. It took aim at American Airlines, the largest airline in the world, saying the alliance would cost consumers hundreds of millions of dollars.
Shares of both airlines closed lower and both vowed to fight the suit, which struck a serious blow to a deal that could help both companies profit at a time when the pandemic has sunk sales and the outlook for air travel remains murky.
JetBlue CEO Robin Hayes maintained the alliance has actually led to lower fares for the northeastern United States and said the airlines compete vigorously elsewhere.
The suit also signals the Biden administration's interest in trying to inject more competition where American and three other airlines control 80% of the domestic air market.
The Justice Department said the sweeping alliance would create a de facto merger in the northeast and combine the two carriers' operations at four major airports: Boston Logan, John F. Kennedy, LaGuardia and Newark Liberty.
The agreement allows American and JetBlue to sell each other's flights in their New York-area and Boston networks and link frequent flyer programs in a move aimed at giving them more muscle to compete with United Airlines (UAL.O) and Delta Air Lines (DAL.N) in the Northeast.
States joining the lawsuit include Arizona, California, the District of Columbia, Florida, Massachusetts, Pennsylvania and Virginia, the court records show.
The Justice Department complaint said the partnership at least partially removed JetBlue as a disruptive maverick that would work to drive down prices.