MGM MUTHU Travel Division Launching Cubabooking.com OTA Site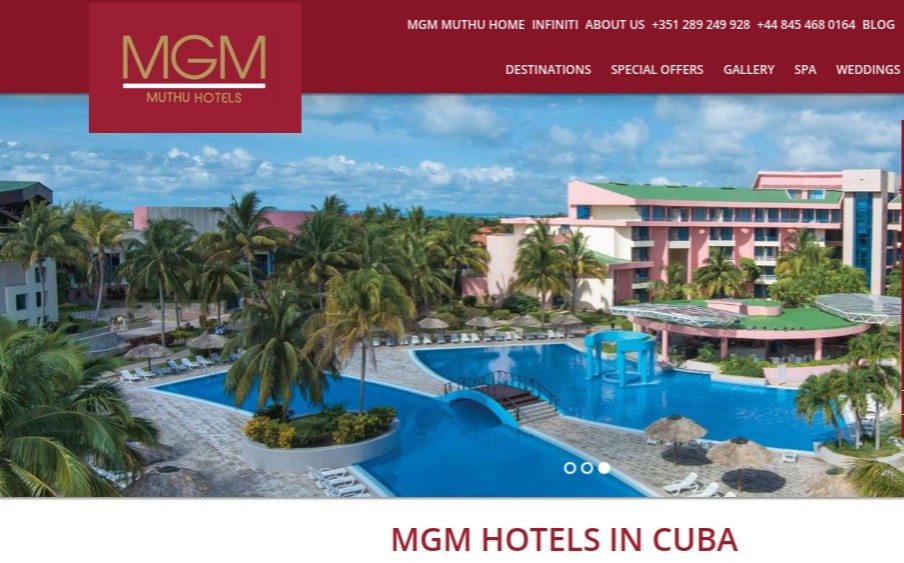 The multinational conglomerate, MGM Muthu Group is renowned for its diversified business interests in a large terrain of sectors such as Logistics, shipping, owning and operating hotels, holiday vacation clubs, theme parks, liquor manufacturing, real estate and the packaging industry. The group's very own MGM MUTHU Travel & Holiday division launches "Cubabooking.com", an online travel agency site exclusively for Cuba to promote all Cuban hotels. This website aims to sell Travel packages, holiday packages, all Inclusive packages including airline tickets. It will be a one stop site where one can book all Cuban holidays. Due to the lack of OTA sites in Cuba, the current tourism landscape has resulted in providing an inconsistent marketing exposure for cuba holidays and has made it increasingly difficult to book any Cuban Hotel as the hotels do not show up on the travel radar of popular OTAs.
The Cubabooking.com site will be a huge advantage for Tourists who wish to travel to Cuba. MGM Muthu Group has initially invested 10 million in the creation of this company and a further investment will be made in acquiring tour operators and OTAs. With the growing number of tourists and hotels emerging in Cuba and to accommodate this exciting demand, it's more necessary than ever to launch Cuba's very own online booking engine for customers and hoteliers alike, to facilitate an ease of booking for anyone anywhere, using "cubabooking.com". This site aims to connect the world with Cuba, by introducing a one stop shop to find all the hotels of Cuba in one place.
Cuba with its magnificent crystal-clear turquoise beaches and unspoiled seas is blessed with sunny weather attracting tourists from all over the world. A visit to its compelling capital, 500 year old Havana which is full of character and history portrays a collision of its renowned old and new, with American classic cars, old style radios, cafes with neon sign boards, goods from the 1950s reused fashionably and the mood of retro interwoven in the cuban culture is evident alongside stunning architecture that dates way back to the 16th century with a mix of modern and contemporary art.
The company's headquarters is in London. The regional offices will be located in Havana, Argentina, Canada, New Delhi, Spain, France, Portugal, Middle East and Germany. This New Company intends to create massive job opportunities in UK, Cuba and Europe. The Company has started to hire senior Executives from various other major OTAs around the world. We hope to provide hoteliers with the best opportunity to showcase their hotels to a worldwide audience, encouraging tourism in Cuba.
Due to the lack exclusive OTAs in Cuba, customers have found it incredibly difficult to find, research and book hotels in Cuba so Cubabooking.com will be Cuba's very own online travel engine which will go live by April, 2020. MGM Muthu Group is already in the process of negotiation to acquire tour operators and a few other OTAs to merge alongside this company. Cubabooking.com will be the only exclusive OTA focusing on promoting Cuba hotels, packages in Cuba and Cuban Tourism.
Cubabooking.com will provide dynamic packages, tailor made holidays and wedding packages which will be customizable, convenient and economical with great emphasis on customer service and guest satisfaction.
MGM Muthu Group also will launch a customer service center (with multilingual staff) and a back office in Havana where OTA guests can interact with the locals who have local expertise and the know-hows of the country. Establishing these offices will also bring more job opportunity in Cuba. Cubabooking.com aims to bring new tourism from Asia through its Asia office, ensuring that the priority is not only to focus on the hotels in Cuba but simultaneously to tap into new markets for more growth and opportunities.
The company has appointed Ms. Monicca Maran as an Executive Director from the board. It will be run by High Skilled professionals who will be the best of the best in the OTA business.