EU Interested in Branching Out Trade with Cuba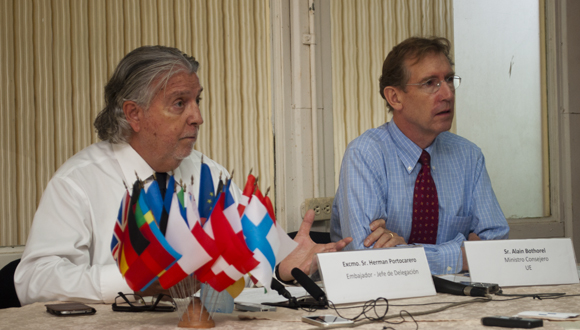 During the official opening of the European Union stand Wednesday at FIHAV 2015, the EU ambassador to Cuba, Herman Portocarrero, said the bloc is interested in facilitating the access of Cuban products into the European market.
"We have a matured relationship. We didn't arrive yesterday. This is a relation with many perspectives for the future and we can make it better by branching out Cuban exports into the European Union," said Mr. Portocarrero, who's also the chief of the bloc's delegation in FIHAV.
The celebration for the Day of the European Union was attended by Cuba's deputy minister of Foreign Trade and Investment, Ileana Núñez Mordoche, who aired the island nation's desire to strengthen trade ties and underscored the cooperation between the two parties in such sectors as food safety, environmental protection, renewable energies, culture and heritage, as well as a project to support the prevention of natural disasters through high-profile actions.
The ambassadors of Spain and Portugal to Cuba, commercial attachés from the European Community and entrepreneurs from the bloc's countries also attended.