Excelencias Group Rolls Out New Publishing Products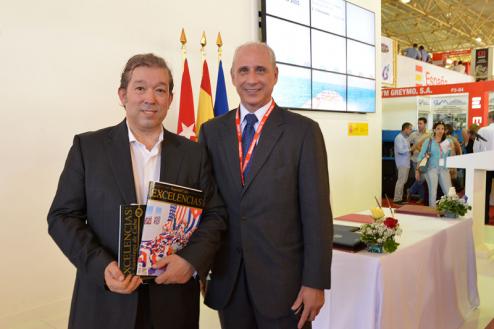 The Excelencias Group awed attendees to the 33rd Havana International Fair with the 2016 Cuba Guide in printed and digital formats, as well as in a mobile app, let alone the launch of a special issue on Cuba of the Excelencias magazine.
It's all about, in the first case, of a directory that comprises a long list of restaurants and leisure spots, both run by the State and privately owned. It contains over 1,280 gastronomic and leisure offers, and accommodations in more than 900 private houses, hostels and hotels, including a number of folding maps with pinpointing geo-localizations. 
According to Jose Carlos de Santiago, president of the Excelencias Group, the new printed guide will be available aboard airlines, in over 2,500 cabs operated by TAXISCUBA, and in all major events and fairs that take place in Europe, the Americas and the Caribbean. However, people can check out the online version (guiaexcelenciascuba.com) or download the free app for smartphones –the only one of its kind available on both Google Play and Apple Store.
Stacked up against previous editions, the 2016 Cuba Guide in printed format in published in English and Spanish, though the mobile app has also been translated into Russian. As a value added, users can share views and opinions on restaurants through text messages or emails (comentarios@guiaexcelenciascuba.com) and join the membership of the Excelencias' critic club.
When referring to the special issue on Cuba of the Excelencias magazine, correspondent Amaury del Valle said it's the birth of a far-reaching project intended to boost up the country's image around the world, not only from a printed format, but also from cyberspace.
As part of the activity, executives, customers and guests were invited to wallow in Santiago 500, a limited edition of genuine Cuban rum launched by Cuba Ron Co. in tribute to the five centuries of the foundation of Santiago de Cuba, the seventh village founded on the island.