UNWTO: Over 560 Million Tourists Worldwide in First Half of 2016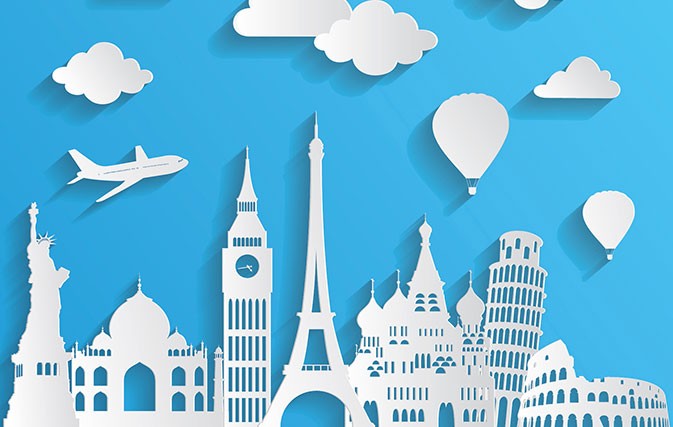 The number of international tourists around the world grew by 4 percent in the first half of 2016, according to the United Nations World Tourism Organization (UNWTO).
According to the UNWTO, destinations around the world received 561 million international tourists, that is, overnight visitors, and that is 21 million more than the same period from January to June in 2015.
Asia and the Pacific received 9 percent more international arrivals, the highest growth across world regions.
In the Americas, the UNWTO says, international arrivals increased by 4 percent, led by Central America and South America. Europe (+3 percent) showed mixed results, with solid growth in many destinations offset by weaker performance in others.
In Africa (+5 percent), Sub-Saharan destinations rebounded strongly, while North Africa continued to report weak results.
However, on the Middle East, limited data for the region points to an estimated decrease of 9 percent in international arrivals this six-month period, though results vary from destination to destination.
The UN agency responsible for tourism indicates that growth accelerated in Asia and the Pacific with international arrivals up 9 percent through June, driven by robust intraregional demand. Oceania (+10 percent) led growth, followed by North-East Asia, South-East Asia (both +9 percent) and South Asia (+7 percent).
It says international tourist arrivals to Europe grew by 3 percent between January and June 2016, with mixed results across destinations. Northern Europe and Central and Eastern Europe both recorded 5 percent more international arrivals.
"Though many destinations posted positive results, growth in both Western Europe (+1 percent) and Southern Mediterranean Europe (+2 percent) was slow," it adds.
The UNWTO states that international arrivals in the Americas which were up 4 percent in the first half of the year, in line with the world average, and strong US outbound flows continued to benefit many destinations across the region. Central America and South America (both +6 percent) led growth, while arrivals in both the Caribbean and North America grew by 4 percent.
Comparatively limited data available for Africa points to a 5 percent increase in international arrivals, with Sub-Saharan Africa (+12 percent) recovering vigorously, but North Africa is down by 9 percent.
"International arrivals in the Middle East decreased by an estimated 9 percent, with mixed results among destinations," it says.
Noting that the first half of the year typically accounts for around 46 percent of the total international arrivals count of the year, the UNWTO indicates that for the remainder of 2016 prospects are positive overall.
It says countries that have already reported results till July or August show continued growth in the current Northern Hemisphere summer peak season, adding that, its Panel of Experts evaluated the period May-August also favorably and remains confident about the September-December period, in line with the trend of the first half of the year.
Confidence is highest in Africa, the Americas and Asia and the Pacific, while experts in Europe and the Middle East are somewhat more cautious.
China, the world's top source market, however, continued to report double-digit growth in expenditure on international travel (+20 percent in the first quarter of 2016), benefiting destinations in the region and beyond.
The United States, the world's second largest market, increased expenditure on outbound travel by 8 percent through July, thanks to a strong currency. Third largest market, Germany, reported a 4 percent increase in expenditure through July.
"Other markets that showed robust demand for outbound travel in the first half of 2016 were Spain (+20 percent), Norway (+11 percent), Australia (+10 percent) and Japan (+6 percent). Meanwhile expenditure from the Russian Federation and Brazil continues to be weak, reflecting the economic constraints and depreciated currencies in both markets," it says.