U.S.-Cuba Business Council Holds Inaugural Meeting in Havana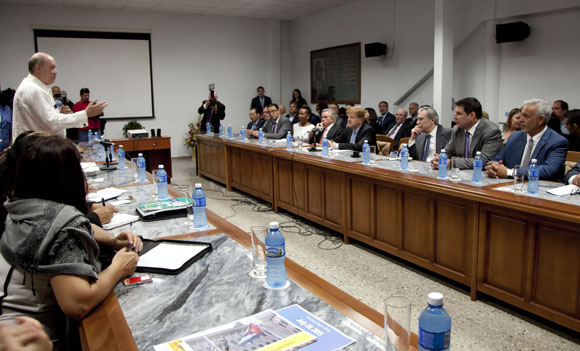 Cuba's Minister of Foreign Trade and Investment, Rodrigo Malmierca, welcomed today Myron Brilliant, Executive Vice President of the U.S. Chamber of Commerce, as he expressed his wish that this visit could help pave the way for better relations between the United States and Cuba.
Mr. Brilliant recalled that the U.S. Chamber of Commerce has been actively involved since 1999 in hands-on efforts that seek to improve bilateral relations between Washington and Havana, though he recognized there's a long way to go in changing legislations that stand in the way of more trade and commerce between Cuba and the U.S.
Within the framework of this meeting, the U.S.-Cuba Business Council was officially installed. The council had been constituted on Sept. 25 in Washington. A representation of corporate America took part in this inaugural gathering that is also in attendance for the 33rd edition of the Havana International Fair.
Some of the American companies that attended the opening meeting of the U.S.-Cuba Business Council were Boeing, Caterpillar, Sprint and Morgan Stanley. The Cuban part was represented by executives from healthcare, tourism, mining, agriculture, telecommunications and the oil industry were present.