Spanish Government Supports Termatalia from the Embassy in Mexico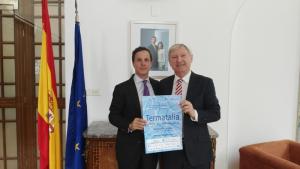 The Director of Termatalia, Alejandro Rubín, visited different departments of the Embassy of Spain in Mexico where he met last week with the Secretary Counselor of the mission, Emiliano Vilanova-Martínez-Frías, who pledged his entire support to Termatalia Mexico-Coahuila 2016.
Later on, Mr. Rubín moved to the Spanish Office of Tourism in Mexico, where he met with Isabel Alonso Piñar, Counselor of Tourism, who is very much involved in the international fair. During the interview, they agreed on several actions to project Spain as a travel destination of Health and Wellness Tourism worldwide.
At the end of the day, there was a meeting between Jorge A. Mariné Brandi, Counselor of Economic and Commercial Office in Mexico. Mr. Mariné confirmed his attendance in Termatalia Mexico-Coahuila and stressed his commitment to helping other Spanish companies interested in prying into this market niche.