Cuba's Economic Model Keeps Moving On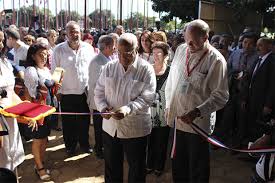 "The Cuban government will welcome U.S. businesspeople coming to invest in the Cuban market on equal footing with the rest of the globe," said Rodrigo Malmierca, Cuba's minister of Foreign Trade & Investment during the grand opening of the 33rd Havana International Fair, an event that boasts the largest turnout of the past fifteen years.
With entrepreneurs from over 70 countries huddled in 21,700 square meters of exhibition space at the Expocuba fairgrounds, this year's fair is dedicated to Cuban exports, a living evidence of the increasing interest and trust the international community has pinned on the Cuban market. Mr. Malmierca also said "the lifting of the Cuban blockade will be a step in the right direction in favor of all international economic relations, rather than just the bilateral ties between Cuba and the U.S."
As to the ongoing thaw between the island nation and the United States, Mr. Malmierca pointed out the country is ready to move on toward the normalization of relations, a process whose largest hurdle to clear is the economic, commercial and financial embargo imposed on Cuba for over half a century.
He also underscored "the special attention" the Cuba government is paying to the need to reel in foreign capital, and invited guests to attend Tuesday the launch of an updated edition of the Foreign Investment Opportunity Portfolio, scheduled to be rolled out within the framework of FIHAV 2015.
The high-ranking Cuban official also saved a few words to talk about the island nation's economic reality, saying that "the updating of Cuba's economic model keeps moving on, through a complex process, toward the objective of building a prosperous and sustainable socialism. Further conditions are being created to separate state functions from business activities, thus raising the role socialist state-run enterprises are supposed to play as a key stakeholder of the national economy."
During the opening ceremony, Mr. Malmierca attender the inaugural meeting of the U.S.-Cuba Business Council, an event that gathered more than fifty executives from corporate America and representatives of both companies and organizations on the island nation.