Colombia to Meet with T&T to Discuss Air Transport Links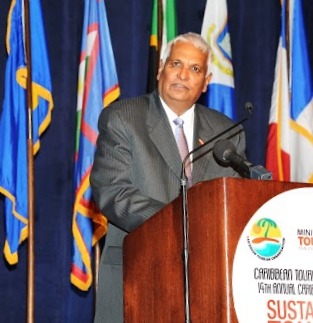 Colombia's Foreign Relations Minister, Her Excellency Maria Angela Holguin Cuellar has agreed to convene a meeting of airlines with Trinidad and Tobago in May to examine the prospects of enhancing airlinks in the wider Caribbean and South America.

The announcement was made by Acting Prime Minister Winston Dookeram during his feature address at the opening of the Sustainable Tourism Conference (SRC-14) at the Hyatt Regency in Port of Spain.

"Recently, in Panama, a Meeting of Minister of the Association of Caribbean States endorsed the notion of a new Caribbean Convergence Model. Two anchors were identified for the execution plan: air transport links and development financing," said Dookeram.

The Acting Prime Minister also echoed the ongoing call from the Caribbean for a reconsideration of the position taken by the British Government on the controversial Air Passenger Duty or APD.

"The APD continues to have a deleterious effect on Caribbean economies, especially those that have traditionally depend on the UK tourism source market," said Dookeram.

"Governments of the Caribbean deem this tax a discriminatory one, given that the Caribbean has been placed in a band that makes travel to the Region much more expensive than traveling from London to the United States.

"Repeated representations have been made to the highest-level British authorities, by regional governments and major private sector players, for renewal of the tax, but these have been to no avail."

Dookeram called on the CTO to continue the lobby very strongly for a call of action on the part of the British authorities.