Havana's Colon Cemetery: An Open-Air Museum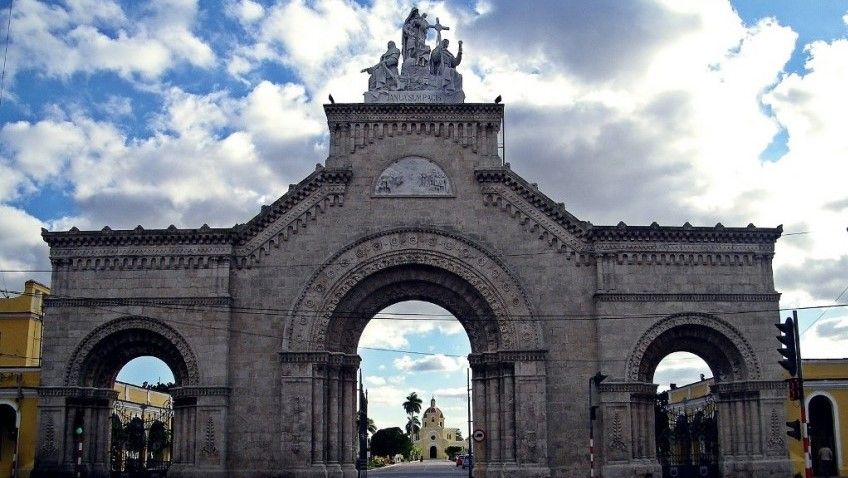 Death is scary. Traipsing down a cemetery as a plain visitor is not exactly a pleasant stroll for many people. But paying a visit to the Colon Cemetery in Havana is a different ballgame. The more you walk its broad main avenue and narrow side streets, the more you forget about death. It's indeed a place teeming with magic, full of majestic monuments and home to Cuba's most exquisite funeral art.
The monumental character of the graveyard enthralls visitors. Nestled in the El Vedado neighborhood, in the Cuba capital, the Colon is the world's third largest cemetery, trailing only behind Staglieno in Genoa, Italy, and Montjuic in Barcelona, Spain.
What's more, the necropolis is the only cemetery in the Americas named after Cristobal Colon (Christopher Columbus), the great admiral who discovered the island of Cuba on October 27, 1492, as well as many other Caribbean and American destinations.
Stories and Architecture
However, the greatest attraction the Colon Cemetery has is the number of sculptures, tombstones and chapels that actually turn this graveyard into a genuine alfresco museum for everyone to feast eyes on.
Gothic, eclectic, neoclassic and modernist styles spruce up the funeral ornamentation there. There are samples of Romanic-Byzantine constructions, Moorish buildings, Greek columns and friezes, robust pyramids and even medieval castles.
The entrance is marked by a sculpture made of Carrara marble that stand for the three theological virtues: faith, hope and charity. But inside the cemetery, many of the spectacular monuments found there are linked to curious, striking, exceptional and even spooky developments, to anecdotes and legends of love, and to conspicuous characters. Many of those stories are now ingrained in the cultural heritage of the Cuban people.
La Milagrosa
One of those gripping stories is the one on Amelia Goyri, known locally as La Milagrosa (The Miraculous Lady), which is perhaps the most sought-after grave. This is her story.
The day Amelia finally got married with José Vicente Adot –following a few snags along the way because of their social differences- so did her sister Maria Teresa. An old legend goes that tragedy comes when two siblings get married on the same day, and so it was. A year later, Amelia passed away of an attack of convulsions during labor.
Her husband Jose Vicente was devastated and commissioned Cuban sculptor Jose Vilalta y Saavedra to make a life-size statue of Amelia that was eventually placed atop the tombstone in 1909.
Jose Vicente began visiting his late wife's grave every single day. The story goes that when the exhumation process was ordered two years later, Amelia's body was intact and she had her newborn child on her left arm. No proof of that exists, but it was good enough to become a larger-than-life creed in the population.
Now, Amelia is thought to work miracles on people who come asking for help at her tomb, especially pregnant women who want a safe labor and a healthy baby. Other people go to her grave with different requests. But as a result of this, Amelia's resting place is always brimming with fresh flowers, small tombstones of appreciation with words of praise carved in them and even toys.
Rinti: The Faithful Dog
Jeanette Ryder was a noble and humane woman who developed an outstanding charitable job. After she died in 1931, he faithful dog Rinti started walking all the way from the house to the cemetery to lie on top of its late master's grave.
In the beginning the caretakers used to chase it away, but Rinti was stubbornly coming back the next day. Its persistence paid off and Rinti was allowed to come in every day in the morning to rest on Jeanette's tomb.
Since the dog refused to eat, it eventually died right on grave one day. Now a sculpture of Rinti lies at the base of the tomb as a token of faithfulness. The artwork was created by Cuban sculptor Fernando Boada.
The Domino Chip
Dominos is a game that stirs passions in many Cuban homes. For many people, winning is a matter of honor and there's no room for defeat. That was the case of Juana Martin de Martin, a woman whose curious demise prompted a curious grave: a double-three domino chip as a tombstone.
During a heated domino match in her place, Juana had picked up a nice suit of threes she thought was nearly impossible not to win with. At the end of the match and just when she thought she was going to bring it to a close with the double-three chip, the game ended and she couldn't make her play.
She became so upset that a number of heart attacks pounded her time and again. She died on the spot with the ill-fated double-three domino chip tightly gripped in her hand. There are no records of a similar tombstone anywhere else around the world.
Jose Raul Capablanca: The Chess Genius
Another peculiar grave at the Colon Cemetery in Havana is the one that honors former world chess champion Jose Raul Capablanca. A tall white king carved in marble marks the great Cuban chess player's final habitation, a glory for both his homeland and universal sports.
The Fallen Firefighters
A huge fire broke out around 10:30pm on Saturday, May 17, 1890 at the Isasi Hardware Store on Mercaderes Street on the corner of Lamparilla Street in Old Havana. Flammable substances, such as gunpowder and dynamite, had been illegally stored. The catastrophe took a deadly toll of 38 people, including 25 firefighters from two different local corps.
The Havana City Hall agreed to build a mausoleum in tribute to the fallen firefighters at the Colon Cemetery. The monument was unveiled on July 24, 1897. Made of white marble and rising up to over 30 feet high, the mausoleum –it's the tallest monument in the entire cemetery- features the bas-relief images of the 25 firemen who died in action. On top of the steeple, the Angel of Faith takes a dead firefighter to the realm of immortality.
The Colon Cemetery, declared National Monument in 1987, cherishes highly valuable heritage treasures, as well as legends, stories and curiosities that make it a must-see for any visitor. It's true that walking past it huge arched entrance is like stepping into the sound of silence. But it's also true that this is a dazzling world that somehow embellishes death.