Washington DC Gets Set for IPW 2017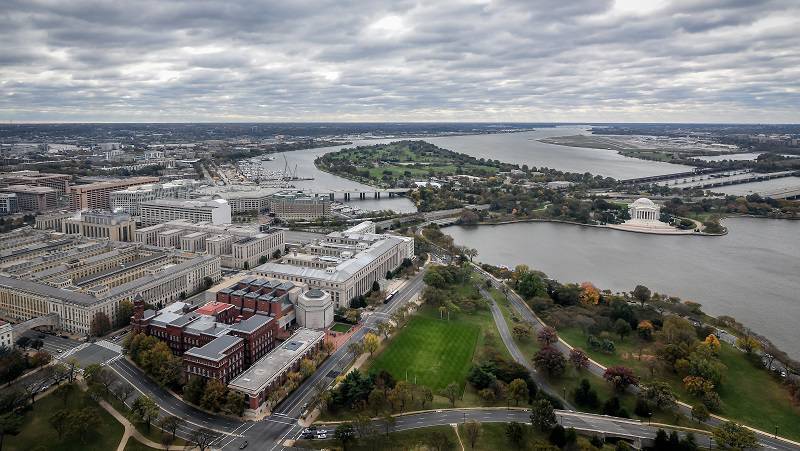 Destination DC (DDC) will host an incredible lineup of special events to showcase Washington, DC during the U.S. Travel Association's IPW 2017, which will be held in the nation's capital for the first time, June 3-7, 2017. DC will welcome 6,300 delegates from 75 countries for the travel industry's premier international marketplace, which is the single largest generator of travel to the U.S. The city is on pace to be among the top three destinations earning the highest IPW attendance.
Attendees will experience what sets DC apart from all other global destinations. Highlighting DC's diverse neighborhoods and experiences, 34 all-delegate and press sightseeing tours will take place on Saturday, June 3 and Sunday, June 4. Tours include coveted access to the Smithsonian's National Museum of African American History and Culture; a glimpse into DC's culinary creators and entrepreneurs including the artisans at Union Market; insight into DC from the water including the forthcoming $2 billion Wharf development in Southwest, and much more.
In cooperation with the National Park Service, an indoor/outdoor Opening Event is on Sunday, June 4. Guests will enjoy a sunset concert on the National Mall featuring a lineup of only-in-DC acts, along with exclusive access to the Smithsonian National Air and Space Museum.
Also on June 4, the Newseum hosts separate brunches for press and MICE, giving hundreds of international journalists as well as international meeting planners and incentive buyers private access to the museum dedicated to freedom of speech. The Closing Event will be held at Nationals Park on June 7, incorporating America's favorite pastime, baseball, into a memorable finale highlighting DC, Maryland and Virginia in coordination with Capital Region USA (CRUSA).
"IPW is essentially a five-day advertisement of Washington, DC," said Elliott L. Ferguson, II, president and CEO of DDC. "Our message to the international community is that they are welcome in Washington, DC and we appreciate their business. We're thrilled to show off the unexpected sides of the nation's capital for tour operators, journalists and our industry peers."
According to Rockport Analytics, the immediate economic impact of hosting IPW is $12 million. From 2018-2020, DC is expected to receive one million new additional international visitors, a $1.7 billion economic impact, $94 million in local tax receipts and 5,900 jobs.
"In Washington, DC, we are happy to host millions of tourists every year. We are proud to show off our vibrant neighborhoods, our thriving arts and restaurant scenes, and the many museums and monuments that tell our country's history," said DC Mayor Muriel E. Bowser. "As we continue spreading inclusive prosperity throughout DC, every visitor to our city plays a vital role in supporting DC businesses and creating jobs for our residents. By staying in our hotels, dining in our restaurants, visiting our attractions, and shopping in our local stores, visitors from around the world have helped make DC's economy one of the strongest local economies in the country."
"This is the opportunity of a lifetime for leisure tourism sales and Washington, DC is ready to shine," said Theresa Belpulsi, DDC's vice president, tourism and visitor services. "Years of planning have gone into IPW 2017 and we're ready to welcome the world and host the best IPW ever."
DC welcomed a record 20 million domestic visitors in 2016, and DDC will announce total visitation for the year in August. DC's dining scene is thriving, recently named "Hottest Food City" by Zagat.com and "Best Restaurant City" by Bon Appetit. A second Michelin Guide is expected in fall. Navigating the city is easy via public transportation, including more than 3,000 rentable Capital Bikeshare bikes and a new streetcar on H Street NE.
In the next year, DC will host events including the DC Jazz Festival; Hive at the National Building Museum; Citi Open tennis tournament; the reopening of the Freer|Sackler; a landmark Vermeer exhibition at the National Gallery of Art; the world premiere of "Mean Girls: The Musical" at National Theatre, the opening of the Museum of the Bible and the return of the Women's Voices Theater Festival.
"We use the #MyDCcool campaign to show the personal connection visitors and locals have with our city, whether that's sharing a meal, a night out, a captivating performance, shopping or simply a sunset photo from an iconic landmark," said Ferguson. "We can't wait to see what IPW delegates capture during their time in the city."
DDC is also working with CRUSA to host regional delegate tours pre and post IPW, encouraging people to come early and stay late, enjoying Maryland and Virginia's sandy beaches, coastal towns, mountains and scenic drives.
The DC hospitality community recognizes the importance of hosting this event. DDC is recruiting 800 volunteers to assist at airports, hotels, events and welcome desks. More than 50 members offer "Delegate Deals" to those showing IPW credentials.
DDC has raised $3.5 million in cash sponsorship and received a matching $3.5 million from the District of Columbia government. DDC is working with 80 cash and in-kind partners to host IPW. Presenting and leadership partners include Capital Region USA (CRUSA), Brand USA, Metropolitan Washington Airports Authority (MWAA), United Airlines and Hilton Worldwide.