Welcome Address by T&T's Tourism Minister at STC14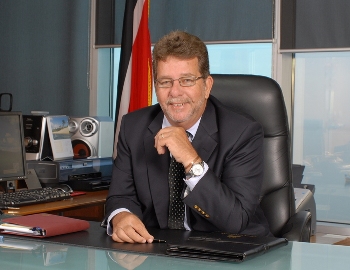 Good Evening and welcome to Trinidad and Tobago.

It really gives me great pleasure to address you this evening on the occasion of the Welcome Reception and Opening Ceremony for this 14th Annual Caribbean Conference on Sustainable Tourism Development organized jointly by the Government of Trinidad and Tobago and the Caribbean Tourism Organization.

As Minister of Tourism, it is for me a matter of pride that we have organized such a prestigious conference here, with the participation of so many tourism experts, practitioners and media professionals locally and from abroad. We will all certainly benefit from your presence and your contribution on a subject that is very topical today and which will influence the type and quality of life of future generations.

Thanks must be extended to the Caribbean Tourism Organization (CTO) for bringing its 14th Annual Caribbean Conference on Sustainable Tourism Development to our beautiful twin island Republic.

There will also be other major conferences this year such as the Travel Professionals of Color Conference and Trade Show that will take place from July 28-August 04. It is also anticipated that in the last quarter of this year the next edition of the Caribbean Hotel Tourism Investment Conference will be held here.

Sustainable tourism development, Ladies and Gentlemen, you will agree with me are no longer just mere clichés. Over the past decade or so, there has been a tremendous body of research and discussion regarding conservation and protection of our resources. Most stakeholders have come to realize that it is in our own interest to devise ways and means to correct whatever could still be remedied.

This year's theme "KEEPING THE RIGHT BALANCE: Enhancing Destination Sustainability through Products, Partnerships & Profitability" strikes at the very basis of what is a fragile industry.  Countries that have chosen tourism development as one of the main pillars for their economic development should by now have come to terms with their own vulnerability.
Not only is the industry fragile, but it has also ripple effects on all other sectors of the economy.

This sustainable tourism conference could not have come at a more opportune time as we grapple with the impact of a global recession on the vulnerable Caribbean tourism economy, intense competition for world tourism market share from the European and Asian countries and service quality issues in our own tourism product.

The Caribbean faces many challenges but I am convinced that any problems we face are far outweighed by the great opportunities we now have to grow tourism. It is critical that we lay aside differences and forge ahead in the true Caribbean spirit to discuss these issues and identify joint solutions to the challenges facing our industry.

I firmly believe that Trinidad and Tobago has an enormous opportunity to become a major player in the tourism industry of the Caribbean region. In the case of Trinidad and Tobago the tourism industry plays a key role in transforming the national economy. And I am happy to say that this Government is committed to developing and expanding our tourism industry.
We are looking to tourism to stimulate a greater level of inward investment, foreign exchange earnings and employment.

Tourism is also been positioned as the driver for the development and engagement of our rural communities. In recognition of the fact that to take our tourism industry to the next level we must be much more structured and organized in the way we develop and market our product, we have sought to re-engineer our marketing and implementation agency the Tourism Development Company (TDC).

The TDC has been given a broad yet exclusive mandate to not only market Trinidad and Tobago worldwide but to also ensure that a high quality product with high quality standards is put in place and that we attract the investors we will need to partner with us to take us to the next level.

Whilst Tobago is a "clean green and serene" destination offering all the charm and beauty expected of a typical Caribbean island, Trinidad is building upon its diverse and vibrant society to become the meeting place of the southern Caribbean. A place to meet not just for business reasons but for social reasons, to participate in our many and varied festivals and events, to participate and watch our myriad sporting events, and to meet to experience our unrivalled diversity of flora and fauna.

This will demand careful planning but more important than anything it will demand the understanding, participation and commitment of our people.

Finally, ladies and gentlemen, I would like to reflect on the importance of service excellence in our industry to ensure sustainable growth.
Developing sites and attractions alone will not be enough to achieve our long-term growth targets. I believe we must pay more attention to service excellence in particular, as ultimately, it is visitors experience in our country that will make them want to return or not.

I am really looking forward to our discussions over the next few days as to how best we can capitalize on the "Caribbean" brand in these most challenging times.

The Caribbean Tourism Organization is setting ambitious targets and I welcome the vision and confidence that the organization is showing.

I would also invite the visitors in our midst to spare some time during your stay with us to discover Trinidad and Tobago and get to know us somewhat better.

Ladies and gentlemen, I thank you.